Come on in the water's lovely! We've just moored beneath a majestic waterfall, the Prosecco's flowing, Dean's crooning and the water is more than lovely, it's delicious! Cool, crystal clear and the perfect salve to recent deck basking. Kids are playing on the green mossy rocks below the fall and we are floating over gentle waves on a batch of pool noodles singing 'like a big pizza pie…that's amore'. Yes and 'questa è la vita' – this is the life!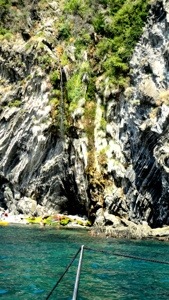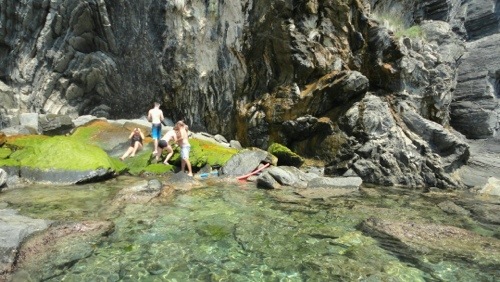 And so began an idyllic viewing of the 'five lands' via a sparkling ocean dotted with Yachts, pleasure craft and our very own quaint little fishing boat.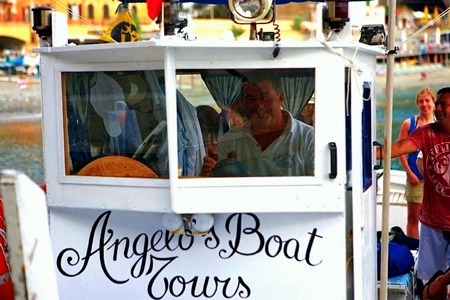 Temperatures under control in time for a leisurely on shore feast in Vernazza. Pizza pie? Heck no! Delicate little freshly marinated sardines and squid, rich black tapenade and olive infused tomato bruschetta, paper thin prosciutto and rock melon, spaghetti laden with seafood, Genovese pesto Trofe pasta; and all washed down with a crisp white or two followed by a searing espresso guaranteed to keep you awake 'till Wednesday.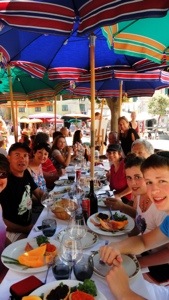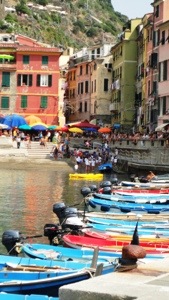 Another dip and back on deck for a lazy float on down past Corniglia and Manarola to Riomaggiori and back to Monterosso al Mere, admiring tiny little beaches along the way that mountain goats would find challenging to get to yet the locals have…and some of them are nude.
Eight assorted Aussies, two Canadians and one very lusty Italian – Angelo our Skipper – had glasses of Prosecco flying, olives bouncing, little kids tipping over and the boat as well in the rush for the binoculars. Our fabulously fun host Linda whispered that the Adonis standing on a rock with his back to us was 'excited'. Oh yes? An audience for a woodie?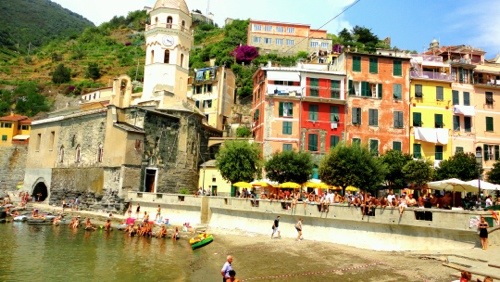 Our second skipper hails from Adelaide, owns a business with 35 'yes sirs' and can think of nothing better than his annual stint doing exactly this…ferrying excited tourists hungry for just one more glance at the colorful little gems nestled within impossibly narrow crevices, the lush green mountains protecting their backs, an impossibly deep blue ocean lapping their shores…ah the mighty Cinque Terre.
Now that's Amore!