Roman traffic is absolute maniacal mayhem! Double parking a given, smart cars parked in the most impressive places, two to a single space, tail in. Zero road lines, everyone jostling for supremacy in an effort to beat each other across the multiple four lane intersections. Exercising a great deal of bravado we hit the road out in peak hour as Dicky exercises the 'when in Rome' and for our efforts learn the most impressive 'sign language'.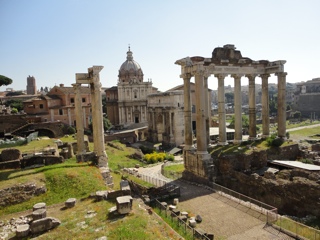 Spectacularly historic city, recycled and built on top of itself over and over thus jam packed with cars simply because attempts to build underground carparks and train lines results in even more ancient archaeological finds…easier to cover it over and try again elsewhere.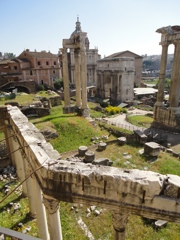 A good portion of the women are over bronzed, fond of lipliner, sport bleached hair, excess bling and don't appear to age well. The guys? Not too bad. Fifi loves the city, Dicky says it's ok but full of 'wogs'…bless! Ducky and Donna enjoy but we suspect the former is still smarting from the vegetarian restaurant…
As we progress down the coast, quickly realize Rome traffic was quite civilized compared to Naples…a grunge tinted city, at least in the 'burbs for the GPS loves the back gritty streets. Definitely not the streets for the faint of heart. Next – Pompeii and the Amalfi Coast.
A few group memories: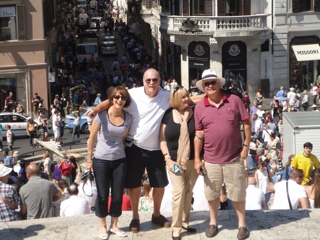 Left to right: Donna, Ross, Jenny, Kim on the Spanish Steps