A Barcelonian visit would not be complete without a wander through the streets to sample the local fare. Our faves:
Cervecería Catalana – renowned for it's tapas and an excellent little breakfast spot. Petite Spanish Omelettes stuffed with potato, served with slender, crunchy tomato rubbed bread fingers. 'Huevos Cabreados' a curious dish of shoestring fries with fried egg and spicy salsa, blended into a big mush at the table by the waiter…a novel take on egg 'n chips and sure to be a Pom pleaser. All washed down with sweet freshly squeezed orange juice and superb coffee.
Sangrias on La Rambla, a popular pedestrian street, impressive but way overpriced, served by a rude, tourist jaded waiter. Sipping the big bowls while people watching the cruise ship exodus of chubby folk in three quarter length pants, sneakers and NYC t'shirts made the effort worthwhile.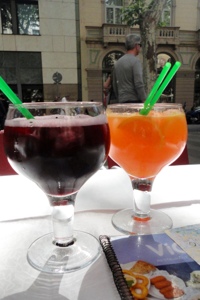 Irati Taverna, a fabulous stand up bar in the old quarter, interesting morsels washed down with a fruity local red.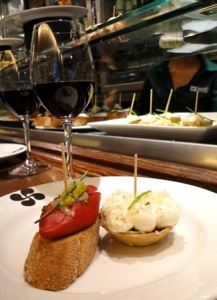 Pinotxo at the Boqueiro Markets. Watch them cook hot tapas morsels with market fresh findings that vary by the moment, we tried rabbit ribs and fried artichoke hearts.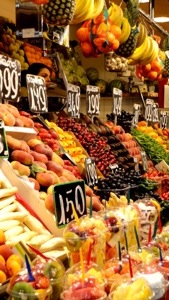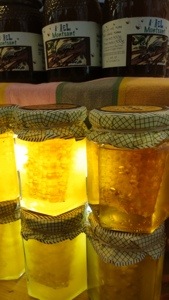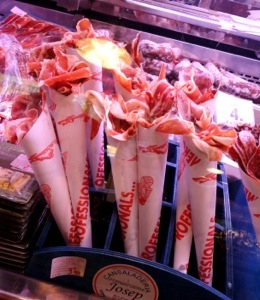 Botafumeiro Restaurante for purportedly the best Seafood Paella in town. Shared an exceptionally tasty one quite unlike the usual yellow fare being hawked near the Park Guell and other touristy spots. Superb service too.
Fab food, good buddy, sunny skies…loved Barcelona. And now to Paris!