But first, take this quiz:
A) Do you fight small anxiety attacks when choosing from a delectable dessert menu?
B) Do you enjoy scintillating your taste buds by throwing them regular surprise parties?
C) Do you find yourself wishing you could try just a mouthful of every dessert on that menu?
OR
D) None of the above, pass the cheese please
OK 'D's' you can leave now. But as for the rest of you…I have a secret!
It's a well known fact that I'm a girl with Champagne tastes on a lemonade budget. Lesser known that I'm a dessert piglet too (is there a three step program for this?). Enter the 'Café Gourmand'.
A 'Café' is just a coffee right? Whereas a 'Café Gourmand' is a coffee accompanied by several petite dessert surprises. Slender shot glasses, mini ramekins, spoons brimming with creme brûlée, mousse, macerated fruits, home made ice cream and sorbet; generous slithers of flan, cubes of cake, macarons, mini tartlets, berries and twille – Chef's choices artistically anchored on large plates with generous swirls of chocolate or berry coulis. And all for little more than the straight up coffee. Sweet! (pun intended). And fast – two birds with one stone, which is how the idea originated. A secret to us tourists unless we've been informed by a local or we ask.
So far I've spooned my way through enough ice-cream to deprive a two year old's birthday party; cake and tart to hold my own at a London high tea; creamy concoctions and mousses to want to press all those gifted shot glasses into action and twilles to research how to perfect these paper thin, haughty crisps for future posterity. And in the interests of reporting, my 'research' will continue. You can thank me later.
Please Aussie restaurants, please add these to your repertoire? It can be our little secret just like here in France. Otherwise ordering a mere coffee will never be the same again.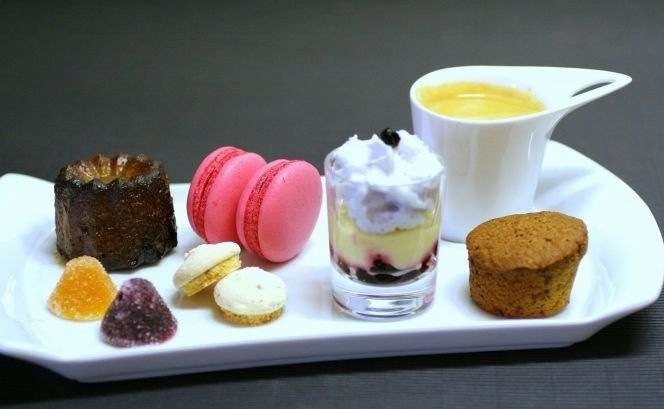 Vaisselle Techôtel