Each time I've had the good fortune to travel I've never indulged in shopping soirées other than to seek out a special little treat for family, friends and colleagues back home. My bliss lies in art galleries, book shops, local kitsch and people watching over the rim of a perfectly rounded out skinny flat white. Oh! and trawling the fabulous weekend food markets of course, an absolutely compulsory feast for the senses.
There is one exception though….shhhh! It's my guilty little pleasure! Just one small enamel bracelet from the house of Hermes in Paris. A special treat, a nod to the city, a salute to one of the premier brands and a timeless reminder of the good times spent there.
If you happen to love those little orange boxes with brown ribbon and are well acquainted with the home of the Birkin and Kelly Bags, silk scarves and fine leather, created in what was once a saddlery, later morphing into a global fashion powerhouse, you will find these little known facts about Hermes rather fascinating…
1) The length of thread necessary to make 1,000 scarves is equal to the distance between earth and moon. One silk moth yields one scarf!
2) The Kelly bag is made with 36 pieces of leather and 680 hand stitches
3) A silk colourist works with a chart of 75,000 hues to create new colours each season
4) The leather ateliers receive more than 600,000 skins a year, each has a barcode to keep track of its origin and specific treatment
5) Hermes's start in fine jewellery came from working with silver to trim saddles
Makes that tiny little enamel bracelet seem positively pedestrian by comparison doesn't it?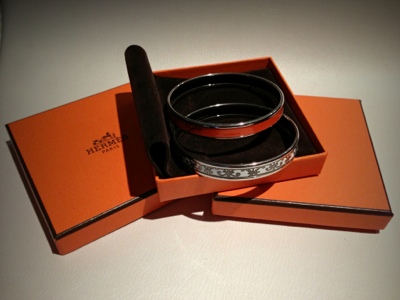 (Facts by Robert Murphy for Harpers Bazaar April 2013)