Pixi's* luggage contains a dead body, or so it seems such is it's weight, six months worth of costume after all; Fifi*on the other hand has no excuses….four weeks! But why the fuss? Well the damn trains have stairs now don't they…didn't receive that memo! New muscles and a fresh batch of swearwords or convincing willing males to heave our bags up and down on our behalf? We take the latter.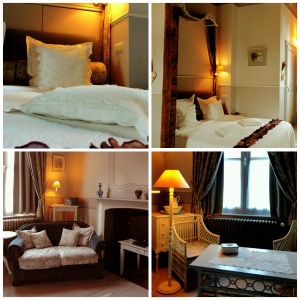 Hello Bruges. Arriving at the ever so quaint 'Cote Canal' B&B, our gracious host Caroline welcomes us to beautifully appointed suites overlooking the canal while sharing the city's highlights. We learn that Colin Farrell actually lodged in Fifi's suite while filming 'In Bruges'…the room also referred to as the honeymoon suite or 'play room'. Hearing this my mind starts to wander …Fifty Shades of Grey…me and Colin, Colin and I. But I digress!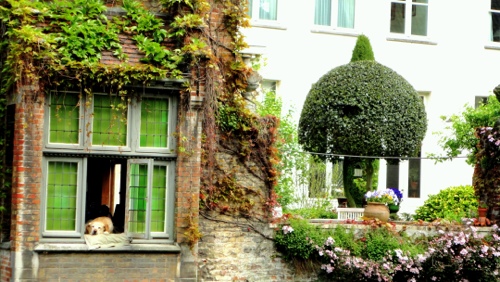 We also meet Fidel, a friendly Labrador quite famous for doing absolutely nothing but snoozing in the window facing the canal to the delight of boats laden with tourists plying the waterways. Commercials, the movie, postcards, tourism brochures all under his belt, a star completely oblivious to the paparazzi.
Such a pretty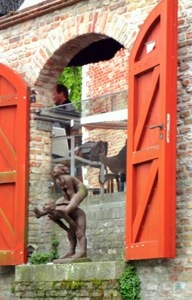 little place is Bruges! Orientate with a canal boat cruise, horse and carriagejaunt and a stroll across the 'golden triangle' scenic spots, iconic monuments, galleries and churches.
Michelangelo's Madonna and Child statue inspires, as does the peacefulness of the Beguinage, which once housed 'Beguines' (women who led lives of religious devotion, usually in the same house or community but without joining a religious order) for over seven centuries. One of the few remaining and now a monastery for the Benedictine sisters.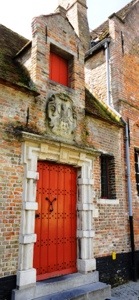 A Belgian beer, Flemish stew, Belgian waffles and afew Speculaas biscuits later we retire to compare photos, rest cobblestone weary feet and sip Belgian hot chocolate. Did you know the Flemish prefer to consume their chocolate at breakfast? Grated or chunky over cereal, on toast, on their fruit? I like their style!
Stay tuned for Barcelonian highlights! The city rocks!!
*If you followed the last European jaunt, you will recall Pix and Fifi plus an additional bunch of characters…if not, see April-June 2011 archives.