I do love to 'feed and water' my friends, whether it be a casual brekky or a five course evening event and thus am always on the look out for new ways to present my offerings.  BJ shares the passion for cooking and pulls together the mains while I plan desserts and conduct the very important 'plating up' exercise…presentation is everything! Somehow it just seems to taste better don't you think?
You'll notice I've been having a passionate affair with 'stacks' and 'mounds' for some time now, most recently the avocado prawn and salsa stacks so appealing due to their colourful layers, and  I'm particularly fond of serving vanilla pannacottas, light, smooth on the palette and a beautifully creamy backdrop for rose water infused strawberries and delicate rose petals, or berries or….well,  it's time for something new!
The recent desire to buy a pedestal glass bowl required justification and  trifle immediately came to mind. Problem was, am not particularly fond of trifle, something to do with soggy Sherry soaked cake and half drunk Aunts.  Test driving the bowl would require something different. With layers in mind and the knowledge that  all things 80's were making a come back (think prawn cocktails) had a lightbulb moment!
Strawberries and Chantilly Cream but with a modern twist…think 'Eaton's Mess' but with a tad more structure. Lovely layers of  merangues, cream, strawberries marshmallows, vanilla icecream and turkish delight all topped with a delicate smattering of lightly toasted slivered almonds…mmmm! Lovely red and white layers, looks good, tastes decadent and appeals to most. So simple yet so impressive, try it!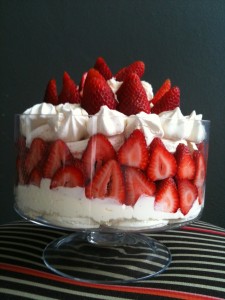 Need:
3 punnets strawberries, 2 punnets worth finely slithered lengthwise, 1 punnet halved
6 soft Merangues, preferably those little fresh soft puffy ones cut into three layers (or substitute with crumbled crisp merangues)
Litre Cream, infused with 1 teaspoon vanilla essence whipped to stiff peak
1/2 bag white Marshmallows chopped
3 slices deli Turkish delight chopped
Rose water sprinkled on slithered strawberries to infuse
Slivered almonds, lightly toasted
Scoops of Vanilla icecream
Assemble:
Place layer of merangue on bottom of bowl then follow with a layer of the whipped cream
Surround the centre internal circumference of the bowl with layers of strawberry slithers pressed against the sides then throw remaining slithers in
Place another layer of merangue followed by another layer of cream
Top with marshmallow and turkish delight chunks, another of the cream then a final layer of merangue
Finish by piping big cream rosettes of cream on top
Plant halved strawberries into piped cream in a circular pattern, finishing with the best on top
Sprinkle slithered toasted almonds over the top just before serving
Refrigerate until ready to serve
Serve atop big scoops of vanilla icecream