Bird song, a single church bell and the distant crooning voice of a busker on the waterfront echo across the valley leading down to sea level. The terra-cotta toned houses look like they've been thrown against the sides in the hope they'll stick and it seems most have despite the recent flooding, repair work evidenced by just a couple of cranes.
The beach is pebbly, looks a tad uncomfortable though some tourists don't seem to mind and are draped over it while others sprawl on blue and white striped deck chairs under matching beach umbrellas. The umbrella hues mirror the upturned fishing boats languishing near the rocky outcrops, some of them aged and peeling, just like a few said tourists. Clear sky and a soft hazy ocean, hard to differentiate where one begins and the other ends.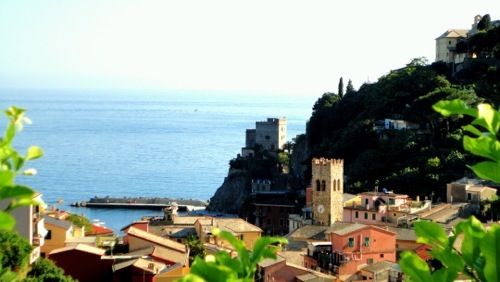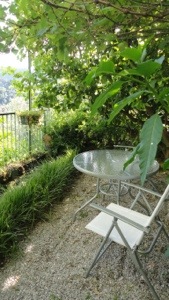 Pinching myself. Monterosso is definitely a worthy choice for my little sojourn, a relief because it's not the easiest train journey if you, like me, will never be that enviable person who travels with nothing more than a backpack, velcro sandals and a vintage SLR camera slung around a neck adorned with a cheeky red scarf.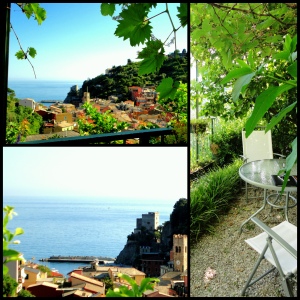 Jostling my luggage through the La Spezia train station subway to the Cinque Terra line within just 6.75 of the 7 transfer minutes, then squeezing in with the hop on-hop off tourists doing the five towns the easy way, the joy of arriving on time is palpable. And sweaty. And rewarded with  Umberto's huge grin. My host's smile quickly turns to grimace when he hoists my bag to his shoulder and proceeds to lead me to the car.
Umberto speaks not a word of English, but that doesn't deter him from describing scenic highlights as we squeal around the mountains to my new home. A treacherous goat track winds back down to the village below, handy, though my laziness says otherwise, thighs already anticipating testosterone fueled weight lifter outcomes.
No sooner examine my new home and contemplate the mundanity of dealing with an overdue pile of washing when Umberto's wife Anna, who speaks three other languages but not a word of English, invites me to lunch at Il Ciliegio, their friend's nearby restaurant. Washing will wait!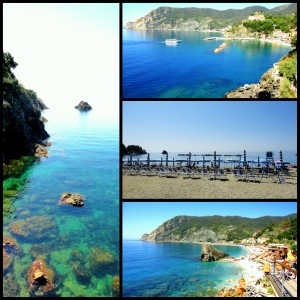 Classic Ligurian dishes including Antipasti Mista – assorted seafood marinated in olive oil; Pansotti del noce – tiny fish every way; mussel laden spaghetti shared from a huge cast iron pot; a swordfish steak and a fresh gelato to finish, all washed down with home made wine.
The meal savored under a Chestnut tree on a terrace backdropped with the most breathtaking ocean view, complimented with laughter at my clumsy attempts to converse, tempered by the speed with which I'm able to type into my trusty iPhone translation app.
The restaurant owners, who speak not a word of English, later join us and, iPhone now drained, I'm content to just listen and smile right back. When Chef learns of my love for fresh cherries or 'ciliegio' (the restaurant's namesake), he plucks a bowl full of the sweet gems which we all share with a nice little sauterne as the sky line starts to fade to pink, the rest bagged for me to bring home.
Gracious, curious, warm and so very welcoming. The furthermost of the five Cinque Terra villages may be known more for its tourism and beaches than the others however it's hospitality such as this that makes Monterosso such a worthy spot. Along with that stunning vista.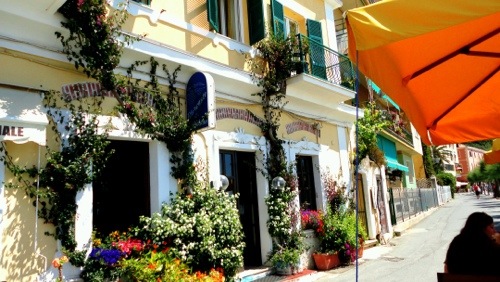 PS: Thought my Italian was improving…until I asked for acqua minerale (mineral water) and was told the washing machine will be delivered on Monday…oh sweet lord help me…