A small detour and large collective gasp!! So many photos of the Leaning Tower of Pisa viewed yet but nothing prepares us for the real thing…man has that thing got a lean!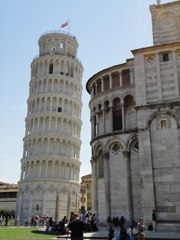 Ducky and Bella have a mini meltdown trying to negotiate the Garmen's interpretation for it talks the local language. Dicky's purchased his first dodgy watch, quite chuffed with his bartering, while the girls stare at endless bent statues.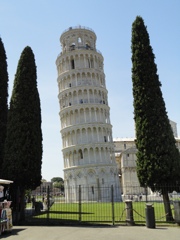 Further direction confusion for the street on which our accommodation resides in Tuscany is not recognized by navigation equipment. A quick trip through someone's back yard and there it is. Ducky & Bella find their way cross country and all in need of a stiff drink stat! A thorough exploration of the Villa and vista…and it is exactly as we imagined Tuscany to be. Beautiful! Sipping our calming G&T, all agree…we could quite happily live here.