What a gorgeous place is this? Jenny's bespoke travel agenda continues to enthrall. We've squeezed Poppy car through impossibly tight cobbled streets and into the tiniest car park where, rather than drag suitcases to our abode for the next two days, a quick transfer of essentials to overnight bags…same clothes tomorrow – the Parisian uniform of jeans and a T, leather jacket and red lippy fits suits the austerity.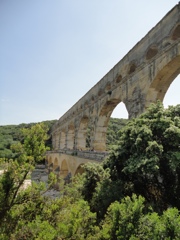 The Pont du Gard Aqueduct, outside Nimes thrills. Incredible engineering considering the Aqueduct was built in 50AD within 5 short years! Amazing chaps those Romans! A quick 'drive by' to admire the walled city in Avignon and on to the quaint Aix en Provence. Our B&B digs are at the top of 59 steps in the delightfully appointed Maison de Carlotta, a mere stones throw from the heart of the atmospheric village. Our hostess the lovely Arlene has made us most welcome, furnished us with a robust agenda and we are determined to satisfy.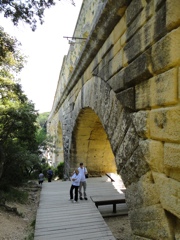 Once settled, Fifi and I canvassed the local culture then settled into a corner bar to sip €2.50 vin rouge and indulge in a spot of people perving while Dicky napped. The exhaustion of navigating our way through the complexity of foreign signed highways, roads and skinny streets taking their toll.
We concur…the women are incredibly stylish – jeans, platforms, fitted leather jackets, slender and exuding a sense of 'joie de vivre'…often on the arm of equally elegant males…we favor the more rugged but damn these guys make great eye candy!
Finish the day dining Italian, the best steak, saltimbocca and a rustic salmon pasta…