Sunny skies, balmy weather and a leisurely day trawling Aix au Provence Saturday markets…lush bunches of full bloom Peonies for just €5, two dozen long stemmed roses €24, the sweetest strawberries €1! And the boutiques! Soft grey suede platforms, crisp white linen harem pantaloons and €5 floral spring scarves for Pixie, sexy black suede, ever so French sandals and scarves for Fifi… retail therapy and market sated while Dicky trawled his own essentials…beer and chips…and eyed up the stylish young things. This city is home to a renowned international University full of 'em.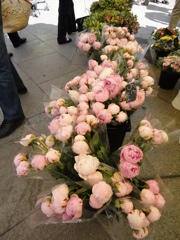 When in France, one must reduce one's bouffant to a chic pixie cut, just €35, cleverly orchestrated through elaborate sign language, gestures and a deftly murdered French pronounciation. A pixie for Pixie! Apt, the name coined by Fifi and Dicky after twice having to wee in forests.
No chubby folk in this neck of the woods….and were just short of blatantly staring at a particularly slender, attractive woman sporting black skinny jeans, a crisp white double cuffed shirt under an exquisitely tailored black cropped jacket all atop sky high kick ass black patent leather Louboutin heels…tres magnifique!
A fond farewell to the adorable Arlene at our Maison and the delightful Aix au Provence. Nice, here we come!