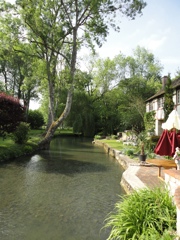 One million royal wedding revelers minus three…that's us! Eurostar to Paris, Jen and I catch snippets of the wedding on the hire car office TV while Ross prepares the paperwork…we concur…Pippa's frock is elegantly exquisite, Posh and Becks take the award for 'uber cool', Queen Lizzie quite resplendent in butter yellow…we learn later via Twitter that the newly married couple take Will's Dad's Aston Martin, resplendent with 'just married' balloons, for a spin and collectively conclude that's a most impressive 'finger' to tradition.
Head out of Paris for Versace…rather a traumatic business driving on the wrong side of the road by the way…find our fuel level low, auto fuel machines refusing to acknowledge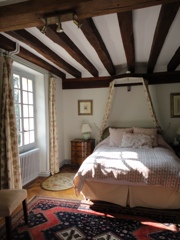 our cards or take cash…a wonderful little Frenchman named Thierry coming to our rescue, sympathetic to our plight to the point of gifting us with freshly baked loaves of fabulous bread plus posies of Lilly of the Valley for Jenny and me…possibly resulting from our many broken French platitudes of appreciation translating to the equivalent of 'marry me'…this beautiful man quickly dispelled the old 'french are typically arrogant' myth.
Finally arrive in Molineuf at our 'have I died and gone to heaven?' B&B in time for a very civilized glass of bubbles or two in the garden where we remark on the wonders of 'twilight time', before a quick freshen up in our cosy accommodation in preparation for an evening with our delightful hosts the wonderfully British Noel, his beautiful French wife Marina and fellow guests Kerry and David. Robust, jocular conversations, several delectable dishes accompanied by our host's carefully selected wines, we leave sated, relieved to have survived the French highway mayhem and yearning for our plump, cosy beds