Was it the Champers? The delightful company I was in? The carefully selected menu lovingly prepared and exquisitely presented? Suspect a little of all for tipsy I was…but I'm putting the blame squarely on the Triple sec Trifle. Oh yes I am! So delish I begged Reuben for the recipe and he kindly obliged. I'm sharing his email word for word for you can just feel the love he puts into this dish…or should I say jar:
From Reuben's pen:
These trifles can be prepared the night before- just make the cream fresh before serving. Serve in individual glass jars for a visual treat!
Ingredients:
(enough for 4 large individual trifles)

• Sponge cake (enough to line the bottom of your jars to about an inch thick).
• Strawberry jam (to put in between the sponge slices).
• Triple sec (just buy the bottle – it's great to have around. If you're flash you could use Contreau).
• Berries – your choice, but I love raspberry, blueberry and strawberry and 3 punnets should do the trick.
• Jelly- a nice bright red flavour – port wine is ideal, but rose jelly is a nice delicate flavour that also works.
• Custard – make your own if you're a smartie, or use a good quality store bought one if you're rushed for time.
• Vanilla essence
• Mint – a few leaves for each trifle and a sprig to garnish.
• Thickened cream – 500 ml
Preparation/Presentation:
• Start proceedings by making the jelly. If you're super organised making it the day before is an excellent idea.
• Cut the sponge in half and spread liberally with strawberry jam, making a sandwich. Push into the bottom of your jar to about an inch and a half – don't press too much and compress the sponge. Soak in triple sec liberally.
• Add berries next with shredded mint leaves, then cover with cold custard.
• Place jelly over custard so that layers can be seen through the glass.
• Whip cream with Triple sec and vanilla essence to flavour and add just before serving.
• Trifles will keep for a day in the fridge without cream.
• Remember to tell your guests these trifles are boozy! 
Enjoy!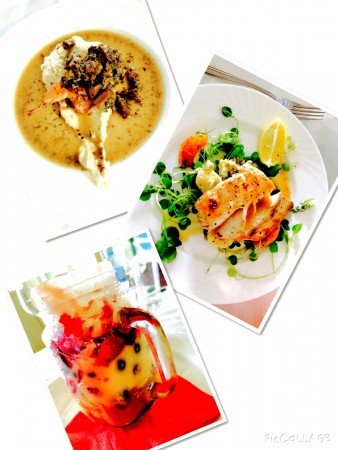 PS: If I'm really, really sweet Reuben may even share his recipes for the complex yet beautifully balanced Quail with Mushroom broth and the delicate MahiMahi with Mandarin. Both dishes causing a mini tastebud meltdown and necessitating a desire to share imagery below. Provided he doesn't get snapped up by Marco Pierre White et al beforehand!
Thank you Ben and Reuben for your gracious hospitality and Jane for your fab presence at the tastiest 'picnic' yet!