Hmmm…seems we've a bit of a food focus going on here. Something to do with snuggly winter nights hibernating with good friends, wine, food. 
Now you saw that Triple sec Trifle right? The one I promoted in my previous post? The desert lovingly presented by the gorgeous Reuben that scintillated taste buds to the point of share and brag? Well in that post I also discreetly hinted for the main dish recipe and the dear man came through. Was it the prospect of fame based on the blog's ever increasing followers? Or the sheer pleasure of sharing the methodology with a fellow aspiring chef. Suspect a little of both so let's test drive Reuben's recipe then take ownership for the resulting accolades with a nod to the man, just as he did to Alasdair McLeod.  
From Reuben's pen: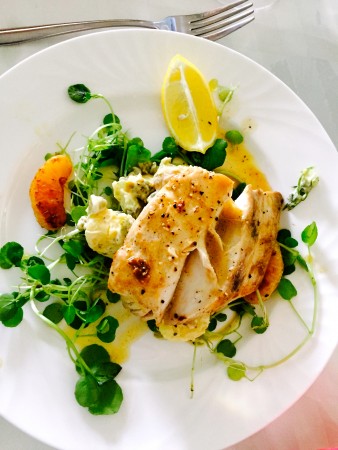 Pan fried Mahi Mahi, Kipfler potato salad and Mandarin on a Cress nest (GF). This dishisheavily influenced by my favourite chef, Alistair Mcleod. The dish serves four people.  It's really easy to do but quite the read.  As usual I've done the ingredients like a shopping list. 
4 fillets Mahi Mahi- approximately 180- 200 grams each. You could also use Yellowtail Kingfish.

Garlic salt (my guilty secret)
For the Potato salad
1 jar Cornichons- you'll use about a third of the jar

1 jar Baby Capers- you'll use about half the jar
8 good sized Kipfler potatoes. If you can't get Kipflers find another grocer. They're everywhere.
2 pieces Celery. Fennel if you love it.
1 jar whole egg mayonnaise (make your own if you want but it is largely  unnecessary as Hellman's whole egg is so good!)
Dill (fresh, fresh parsley if there is no fresh dill).
 The Garnish
1 mandarin (peeled and segmented, with the white pith removed)

1 bunch watercress.  Not mustard cress, but snow pea vines are ok.
 And the Dressing/Reduction
6 lemons

100 ml olive oil, but you will need more for oiling the pan.  You should always have a reasonable amount of it in your pantry.
Salt
Pepper
Preparation/Presentation:

Start by boiling the Kipflers.  Leave the skin on because it's delicious, good for you and adds another flavour dimension – quite earthy.  Put them in cold water onto high heat, and test them by stabbing them with a cake skewer after the water boils.  Once they can be easily penetrated take them out and cool in a colander. Once coolish, cut them into bite sized pieces- discs are aesthetically pleasing. 

Dice cornichons, dill and celery (about a cup full in total) and add to potatoes with baby capers and mayonnaise (enough to coat potatoes but don't make it too wet). 

Season with salt and pepper conservatively.  Serve warm, so don't chill it after you make it or microwave it if pre-prepared.
Dressing/ Reduction
 

Combine the juice of 4 lemons with 100 ml cold pressed olive oil.  Shake in glass jar and add salt and pepper minimally.  Taste it when you are done and make sure you are happy with it.  It shouldn't be too oily or acidic.
 Garnish/ Plating
 

Trim watercress and soak in cold water for 10 minutes. 

Heat a hot pan with 1 tablespoon oil and slightly char mandarin segment's skin- don't cook segments but a nice dark colour on the skin is good. 

Arrange watercress in nest on plate with one cup of potato salad in the centre.

Add mandarin segments to plate artistically. Feel clever.
 Cooking the fish
Heat pan to medium/high.  Add two tablespoons olive oil. Place Mahi fillets in pan (I season with a pinch of Masterfood's Garlic Salt and cracked black pepper)and cook on one side until coloured.  Baste with olive oil and lemon dressing- fish loves moisture but don't steam it and remember to save at least half of the olive/lemon mixture. 

Turn fillets once (ideally) and cook until both sides have a slightly golden sear.

Remove fillets from pan once cooked (you can test by cutting into a fillet- if it's a dinner party, use the one you intend to eat yourself). 

Put the rest of the olive oil/ lemon dressing in the pan and reduce it until it changes colour- it should go slightly darker to a light brown colour. 

Place the Mahi Mahi fillets in the centre of the nest on top of the potato salad and dress with the lemon juice and olive oil reduction. 

Wipe the edges of the plates once you're done.  Serve to stunned
guests.
Oh and…..
Accept accolades graciously and acknowledge Reuben. Enjoy!