BJ loves cooking, as do I, thus we found ourselves trawling the opening specials at recently relocated 'Taste' and bagging a few of our much coveted kitchen enhancements, quality knives for him, plate up rings and Donna Hay tea towels for me, fabulous timber chopping boards for our shopping buddies.
Test drove the rings today…junior Master Chefs watch your backs! (Recipe below)
Need (serves 2):
1 avocado, peeled, seeded, finely diced
2 tomatoes, halved, seeded, finely diced 2 spring onions, finely chopped
10 cooked prawns, 2 put aside, rest peeled, finely chopped
10 drops Tabasco sauce
1 tablespoon whole egg mayonnaise
6 Capers, finely chopped
1 Lime, cut into wedges
Dash olive oil
Sea salt and cracked pepper
Cucumber ribbons and celery tops to garnish
Create:
Throw avocado, finely chopped prawns, mayo, capers, shallots, a big squeeze lime juice, pinch sea salt and grind of pepper into a bowl and gently blend
Throw tomatoes, olive oil, Tabasco, a tad of salt and cracked pepper into a separate bowl and gently blend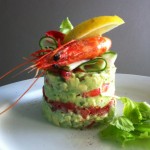 Shave ribbons of cucumber using peeler or mandolin, pluck a few celery tips, put these and the whole prawns aside for garnishing
Place ring in center of a large plate, pop a layer of avocado mix in, press down, add a tomato layer, another avocado layer and repeat until filled, finishing with tomato mix
Lift ring up and away from stack and repeat exercise with next plate…looking impressive?
Now place cucumber ribbon curls and an unpeeled prawn on each stack, tuck a celery tip and slither of lime wedge in and finish with a grind of pepper. Yum!
Serve with a crisp chilled white wine.