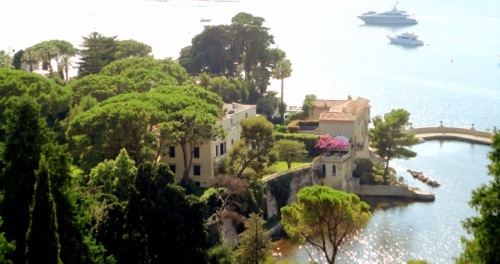 Ever visited Villefranche-Sur-Mer?
So many off beat, interesting, exciting and downright brilliant things to do in and around Villefranche-Sur-Mer (VSM) on the Côte d'Azur France, it would be remiss not to share my favorites. View the list as confirmation for 'Heck yeah I'm booking my ticket now!' or valid argument for 'Bugger off, that's not my gig.' Your choice.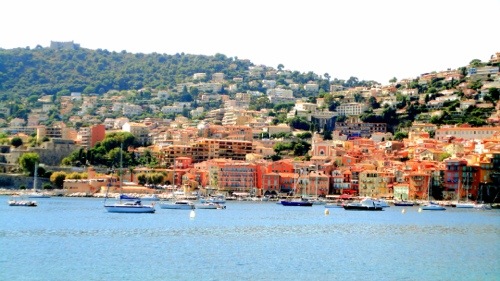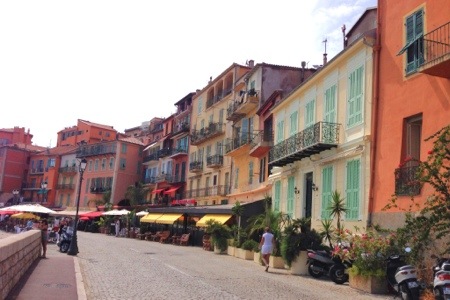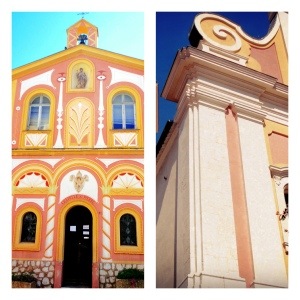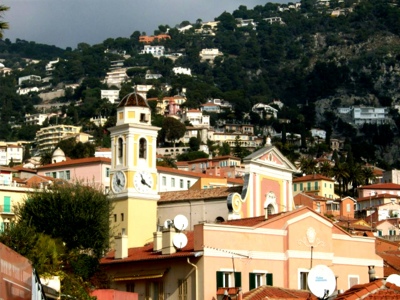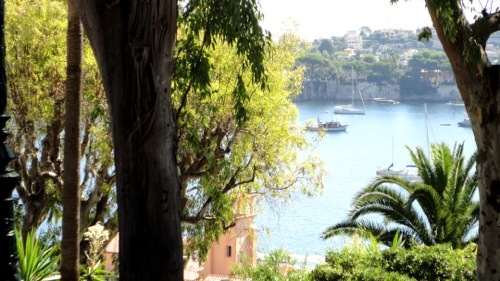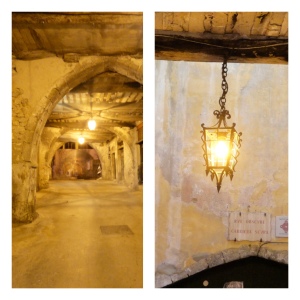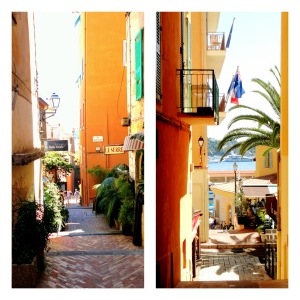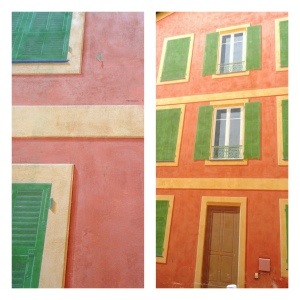 1) The village clutches to it's heart an 'old town' which includes the Rue Obscure, a 14th century defensive passageway which fell victim to urbanization over the centuries and became completely covered. St Michel's Church with obligatory bell tower serving as village alarm clock and Saint Peter's Chapel decorated by Jean Cocteau and devoted to fishermen. The villas bathed in soft hues of terra cotta, clotted cream and dusty tangerine, crowd narrow alleyways lined with restaurants, bars, clothing and gift stores, a Boulangerie-Patisserie, mini CoOp market and the essential Tabac (phone recharge, mags, papers, tobacco) all pushing up against a spectacular harbor foreshore; as well as…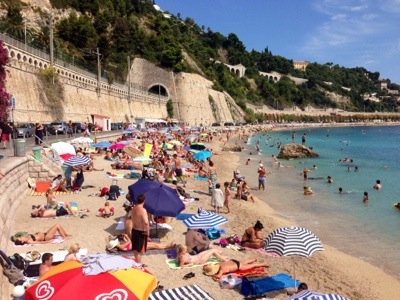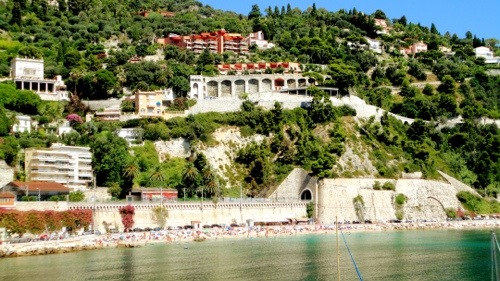 2) Du Plage des Marinières, the local beach. Fee free too. Smooth pebbles, heavenly on hot summer days averaging 29-34 degrees, water so deliciously cool and salty you can toss the Floaties and indulge in submerging ears to listen to the swoosh of the ocean bed below, eyes heavenward to admire the ridiculously deep blue sky while pondering a visit to…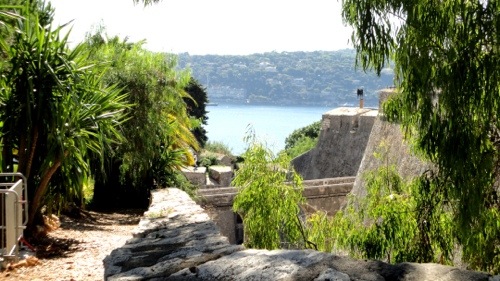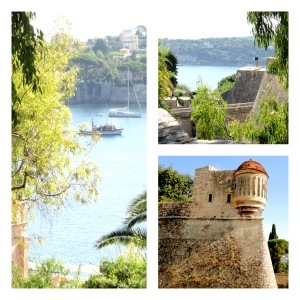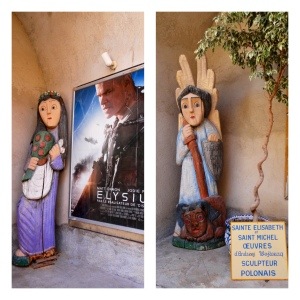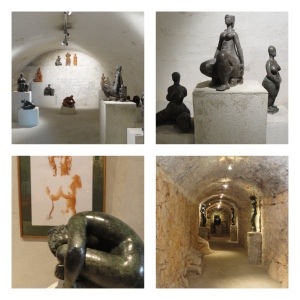 3) The ancient Citadel, once a fortification now housing Le Hotel de Ville actually the town hall; intriguing art and sculpture exhibits with zero entry fee, a nightly open air Cinema for minimal euro, uber cool vibe and compulsory language grasp, plus art centric gardens in which to view the harbor which is…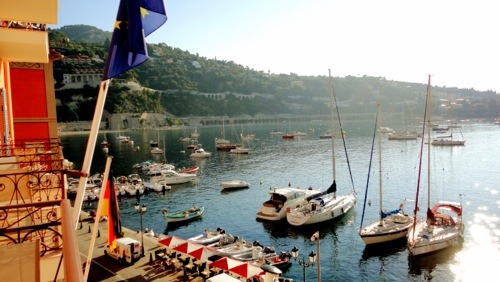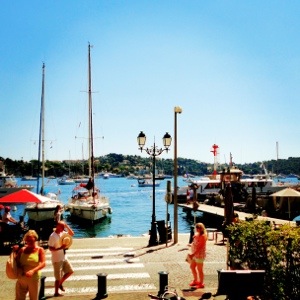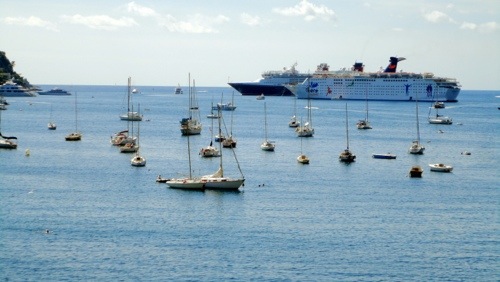 4) The deepest port in the Mediterranean and where you can (a) park your maxi yacht right in front of the many restaurants lining the harbor, give the crew the night off and/or (b) demand your cruise ship does likewise (agenda tick given the volume of cruise ships in the bay) where you can feast on Moules et Fruits de Mer (mussels and seafood) while you plan a…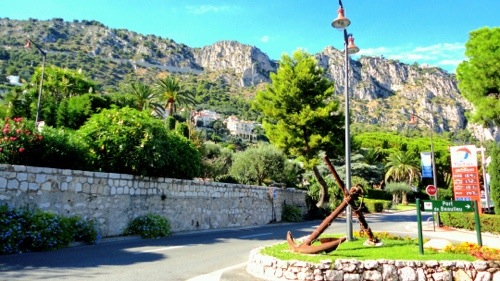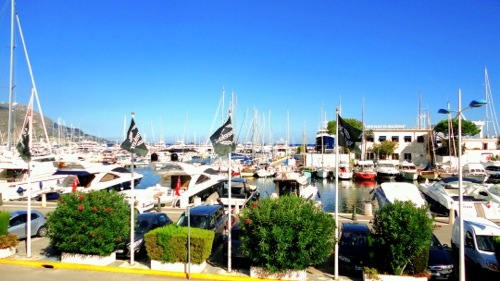 5) Walk to Beaulieu-sur-Mer, the neighboring harbor jam packed with yachts and sea craft , more beautiful beaches, a backdrop of cliffs upon which houses cling precariously. You may refer to this village as Beaumont-sur-Mer if you enjoyed 'Dirty Rotten Scoundrels' starring Michael Caine and Steve Martin; a movie script rumored to have been written for David Bowie and Mick Jagger…which leads to turning right at…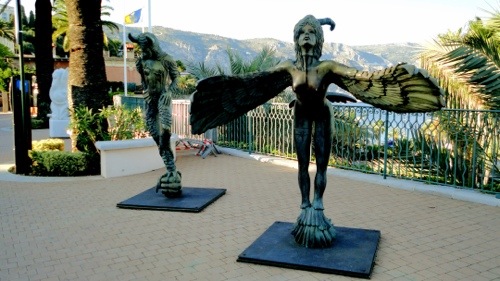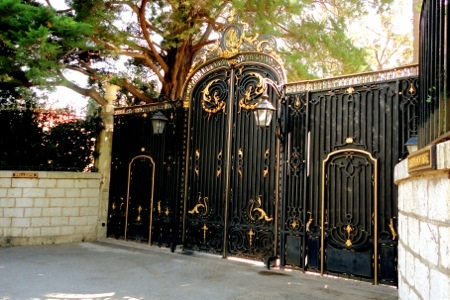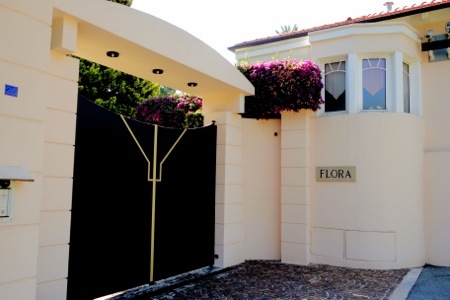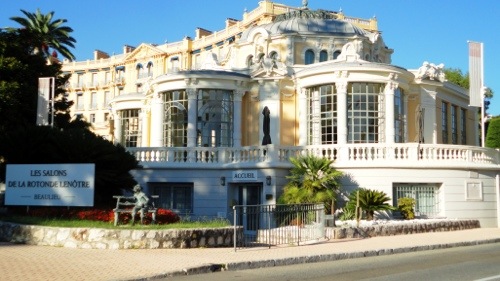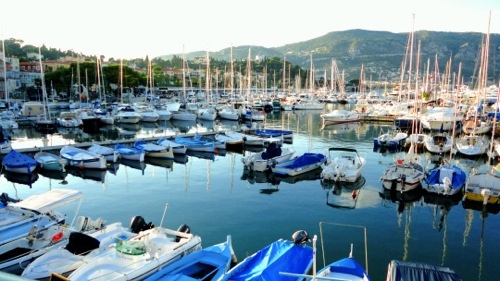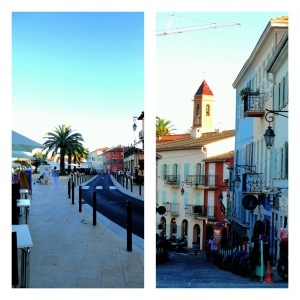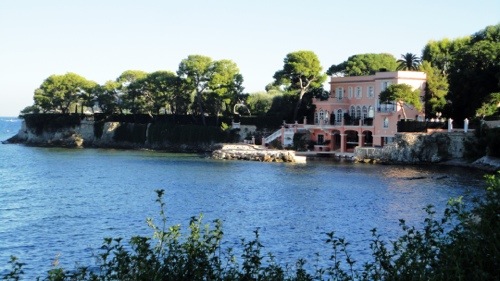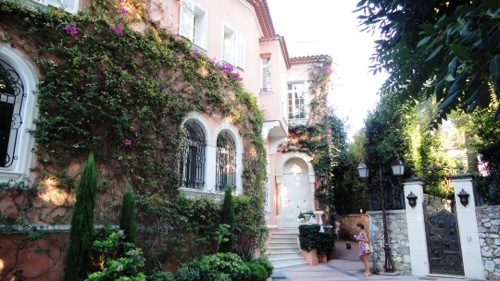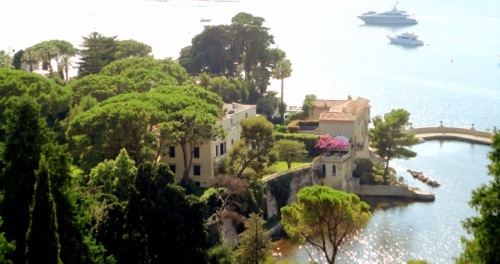 6) Saint-Jean-Cap-Ferrat where you can admire the €€€ real estate belonging to 'notable' gentry including Microsoft co-founder Paul Allen and Andrew Lloyd Webber. Stroll along the beautiful Promenade Maurice Rouvier from the Beaulieu Bay de Formis side of the Cap and while there check out Villa Nellcote (the gates that is) where the Rolling Stones recorded 'Exile on Main Street' (in between Keith indulging in or brushing off the French constabulary for drug misdemeanors) while also…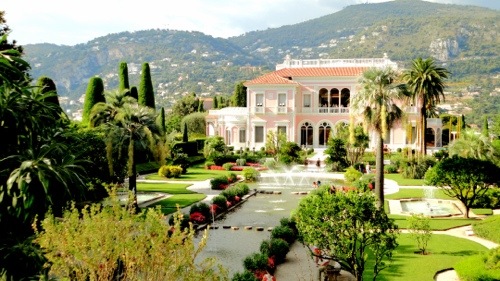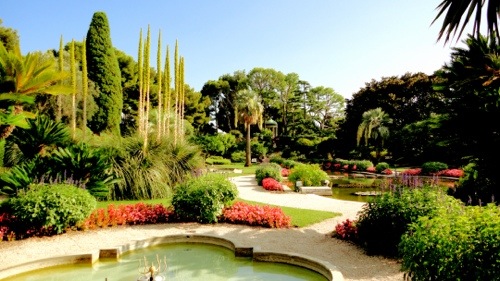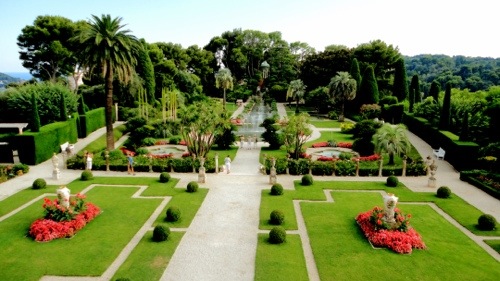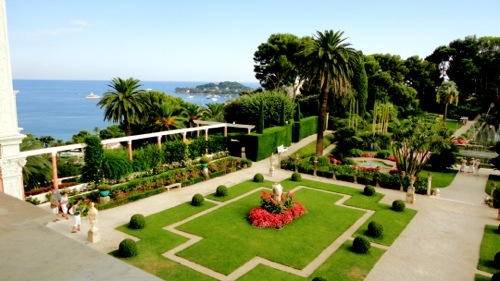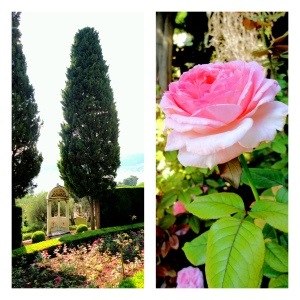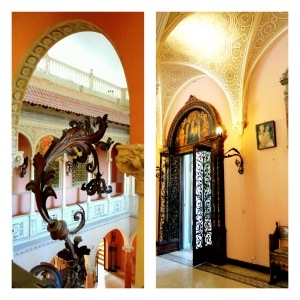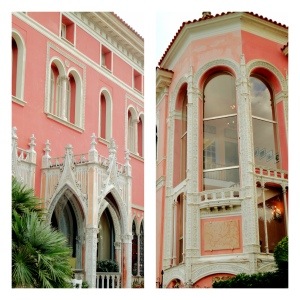 7) Taking in the glorious Villa Ephrussi de Rothschild where Rothschild imagined and designed her gardens as a ship's deck; temple of love at the bow, the Villa from which to admire her work (well that of the hired help, all required to sport red berets with pompoms) at the stern, the garden itself flanked with l'Espalmador bay to starboard and the Fourmis bay port-side. Observe and admire the musically synchronized fountains and while on the famous Villa roll you may also wish to…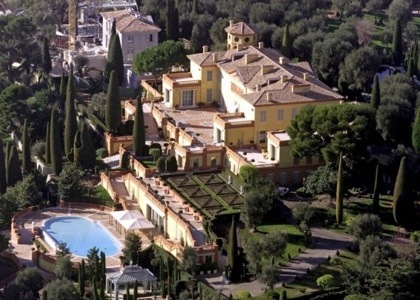 8) Marvel at Villa Leopolda up there on the VSM mountainside backdrop; possibly the world's most expensive real estate where (a) battles over integrity maintenance were fought and lost with royalty, (b) a banker's wife sued and won a Russian billionaire's renege on a €35M deposit (on a sale originally touted at €500M, later refuted to be just €375M) and (c) in which a number of movies have been filmed including 'To Catch a Thief' starring Grace Kelly prior to her becoming a 'local'. Which of course brings us to…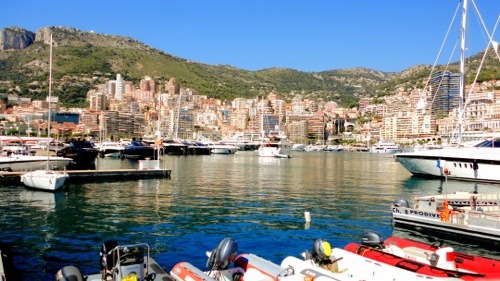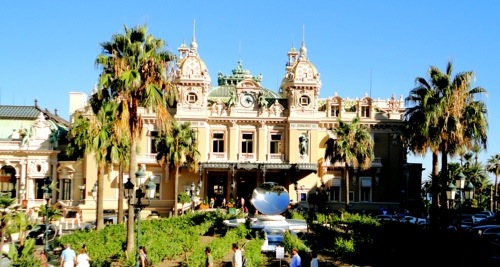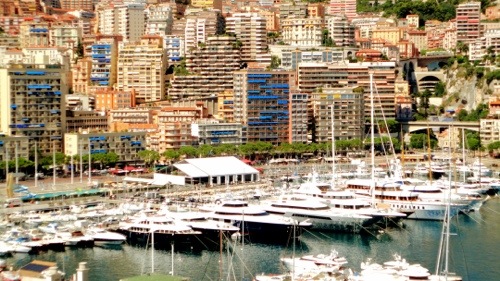 9) Utilising the village as the perfect 20min access to Monaco where you can don your fave Chanel frock or Stuart Hughes suit, add your best Harry Winston bling, tip the driver and head in to roll the dice at the Monte Carlo Casino while pouting for the paparazzi (see Black Amex Down post). Alternatively, to Èze-Sur-Mer where you can trek all the way up to Èze Village (while also admiring Bono's home clinging to the mountainside); a mere 3 hour, 430 metres from sea level hike…yeah right! There's a bus – €1.50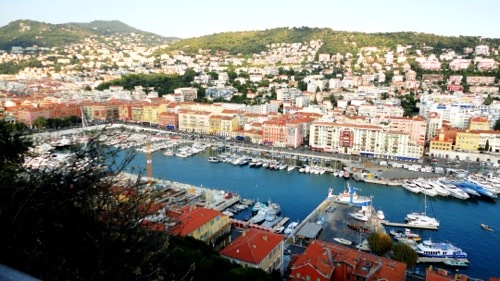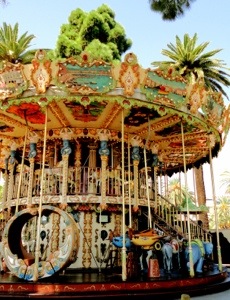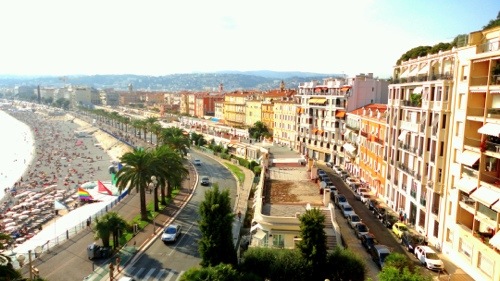 10) If that's not your bag, head in the opposite direction to Nice and dance down the Prominade des Anglaise (see 'I'm still standing' post), trawl the nitty gritty back streets and check out la mOMa gallery; Canne, if your anxious to do your best 'red carpet' imitation. Now throw off the papps, return to VSM and follow the…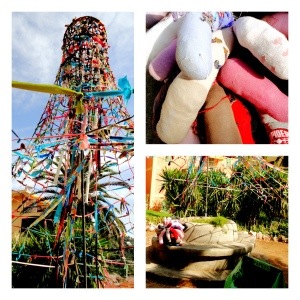 11) Tiny foot prints enticing you to brilliant works of art deliberately and enticingly hidden throughout the village, then debrief on what the artiste was trying to convey with that massive tangle of fluorescent wool between the trees over a chilled Sancerre while admiring another glorious sunset; after which of course you will..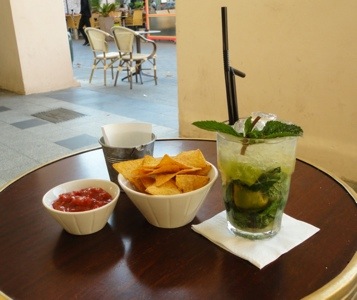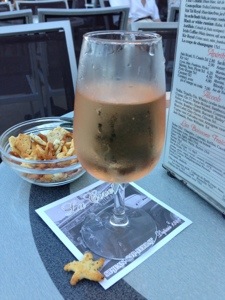 12) Choose from the array of restaurants to graze on a L'Apéritif (Aperitif), L'Entrée (Appetizer), Le Plat Principal (Main course), Le Fromage (Cheese), Le Dessert (Dessert), Le Café (Coffee) and a Le Digestif (Digestif) to finish the day on a nice note; all the while ruminating on highlights from this beautiful little piece of the famous Côte d'Azur.