Or…how a MixMaster may have saved my life…
The mighty annual office bakeoff. Competition fierce…always has been, always will be and we wouldn't have it any other way. Hashtag game on!
Oh yes! While I'm busy Googling 're-purpose' options for my batch of timer traumatized chocolate brownies, they in their frilly aprons with matching china bowls and candy stripe cupcake papers will be comparing the fruits of their labours to their Donna Hays with smug smiles of satisfaction.
Uh huh! The fabulous five (my gorgeous colleagues), between moving house, dance, gym, soccer runs and end of year school mayhem, still somehow find the time to knock up exquisitely presented, scrumptious fare that would make Adriano Zumbo blanche. Oh the pressure!
Time to put 'em in their place I mutter while wiping the sticky (but glossy) meringue massacre splatter of my new attempt off the kitchen walls. With what's left in the bowl I will impress. Oh yes I will. After I dissolve this glob attached to my brow. And pour a large wine. And Google a substitute for white vinegar. I want my Mom.
Here's the result. And the recipe. And you will need a BIG bowl. For the mix not your wine. And probably one of those MixMasters my colleagues are so fond of rather than hand held beaters.
Caramel Filled Pistachio Meringues
Need:
• 4 free range egg whites
• 220g caster sugar
• 2 teaspoons corn flour
• 1 teaspoon white vinegar
• 40g pistachios, roughly chopped
• For filling – caramel in a can
Do:
• Preheat fan forced oven to 140 degrees centigrade (160c conventional/gas2-3)
• Line 3 baking sheets with baking paper
• Put egg whites in clean, grease free bowl and using stand electric mixer or electric hand held mixer, beat them until soft peaks form
• Gradually add the sugar, 1 tablespoon at a time, whisking well after each edition. Whisk until mixture is smooth and glossy
• Fold in the cornflour, vinegar and 3/4 of the pistachios
• Put mixture in piping bag with no tube (or glad bag with corner snipped off)
• Pipe small rounds onto the prepared trays, allowing a little room for expansion, and sprinkle the remaining pistachio
• Reduce oven temperature to 130c (150c conventional/gas 2) and bake for 40 minutes
• Turn off oven and leave meringues inside to cool completely
• Scoop caramel out of tin whisking briefly to soften it then use it to sandwich meringues together
Serve: 
Pile on a platter and present.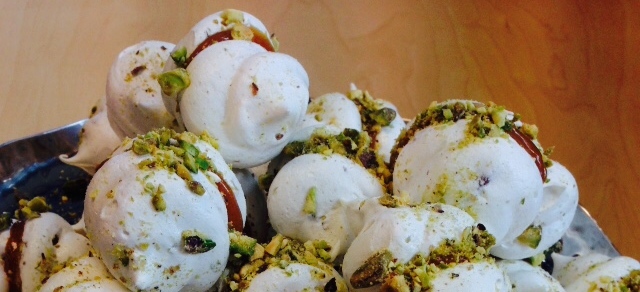 PS: After the collective outcomes were presented, Instagrammed and consumed amidst deep sighs of sugar high, the vote was in. Hard to top a magnificent raspberry stuffed brownie topped with shards of white chocolate and dried raspberries thought I, as I graciously smiled at the winner punching the air with glee. A worthy adversary that Maree. But you just wait sweet pea! I've 11 months to perfect a perfect comeback…now somebody buy me a goddamned MixMaster?