If Christchurch can do it why can't we? I'm talking shipping containers up-cycled to snazzy little food outlets and market stalls, Astro Turf clad stacked timber pallets for tables, cable spools for chairs. Throw in a bunch of greenery, a raft of twinkly fairy lights and an eclectic mix of live music and voila! A vibrant, funky little destination…Eat Street Markets.
My buddies and I struggled to choose between the clashing aromas of international street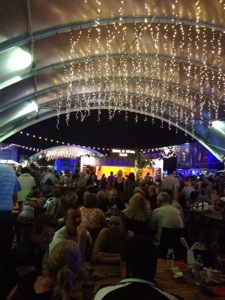 foods ranging from Turkish Gozlemes to Dutch Poffertjes, Korean fusion burgers to Malaysian roti…and as for a bevvy? More choices. Cold beer or cocktail? Coconut, strawberry, rose smoothie or watermelon, pineapple, mint crush? An exhaustive business this sampling, the place a veritable feast for the senses, but we managed to waddle out both sated and satisfied.
A fun little spot to take your well behaved dog, kids, mother in law, international visitors. Loved it. Would love to hear your thoughts…
How to find? Down by Portside making good use of vacant allotments near the Cruise Ship terminal. http://www.eatstreetmarkets.com