Creating a haven in which to withdraw from the frantic pace of the world, relax and re energize is so vital to our well being isn't it? Hence the 'Nest' element of the blog, and the reason for this post, for I've just identified, thanks to my newest holiday abode, just how easy it is to create a simple yet elegant studio on a shoestring budget! Perfect for housing a teen, a parent, a B&B or just for you. Your own little haven…your 'man-shed'…or should that be 'person'-shed?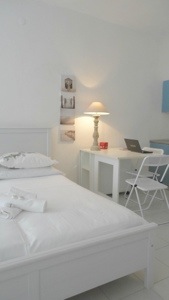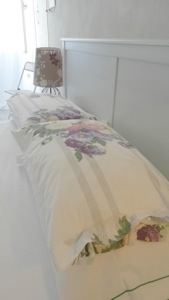 Whereas the studio in Monterosso had only one small avenue of natural light and fresh air, making for a musty, dark abode but saved by the spectacular view from its tiny terrace, this one if full of light and fresh air. Elegant in its simplicity, comfortable and soothing to the soul. Its the white. A white that conjures up visions of crisp white Greek villas against a deep Mediterranean backdrop. Only this one's on the Italian Riviera.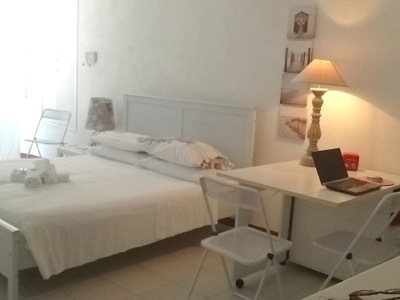 Whitewashed ceiling and walls, white tiles, white furnishings, a splash of blue for kitchen cabinetry, simple calico swaths of fabric against the vibrant forest green of the shutters for curtains.
An old fishing boat oar of red white and blue draped across one wall, a hark to village origins. Bed linen of crisp white, cool to sun kissed skins, with just a touch of subtle dusky floral. A bathroom lined in small tiles of the same shutter green blended with a soft cream and thoughtful lighting.
But what takes it from 'yeah so' to 'wow factor' is the quality of the linens. Huge waffle weave bath sheets (yes we love our toweling but these wrap easily and dry fast!). Bed linen of brightest white and maximum thread count, essential for screaming 'luxury'. And all finished with just a linger of Durance White Camellia pillow spray and a few strategically placed tea candles (my own little essentials). 'Sono le cose semplici che contano' It's the simplest things that count.