Singapore…clean, serene, green…and steaming. But that's exactly what we expect as we settle into air-conditioned luxury at the Ritz Carlton, a Dicky choice due to the privileges the private lounge affords…all day grazing in sublime surroundings.
The spectacular vista includes the amazing sculpture that is the Marina Bay Sands,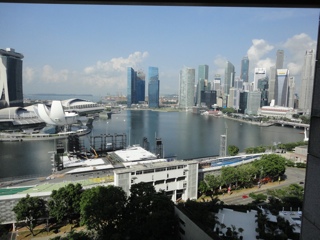 Pixies choice but lacking that private lounge. The Lotus, Casino, the armadillo like esplanade theatre, Helix Bridge, the Merlion, the Singapore Flyer taller than London's eye, and a harbor full of massive containers waiting to purge.
Having spent the past six weeks in Europe, we seek familiarity with the old by heading straight for the iconic Raffles Hotel where we sidle up to the iconic bar and sip the iconic Singapore Sling…well actually we don't for the drink is somewhat overrated, instead settling for a most magnificent Bloody Mary …or perhaps it's again the atmosphere?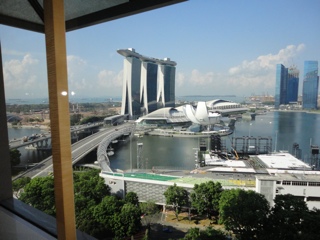 A swim, Pina Coladas, Champagne and tiny delectable morsels of all things Asian followed by a deep luxurious bubble bath. The lights of the harbor below twinkle through the huge hexagonal window beside my bath. The perfect transition to a deep, slightly jet lagged sleep in my big snuggly bed. Good night.