Feels like we've 'come home'… is this due to settling into one lovely apartment and spreading ourselves out for seven whole days? Do we put it down to familiarity for this is the third visit for Fifi, forth for Pixi? Or is it simply because this most beautiful of cities – the city of lights – is again casting her spell?
It's been a long journey this past five weeks…5,200k, three countries, three different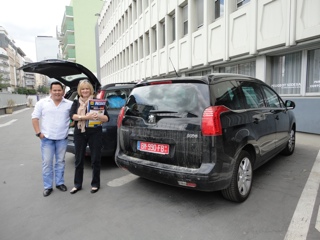 languages, so much to see, yet we've seen so much…saying goodbye to our beloved Poppy car a poignant experience, revisiting our Blog affording us opportunity to differentiate between primacy and recency.
Philosophsing aside, practicalities call…it's time to regroup… four weeks worth of washing, admire the big bunch of Peonies our kind host has provided, sip the delectable Burgundy she has left, stroke the crisp French linen on our king size beds, a little Angus and Julia Stone on the IPod dock, feet up, plan the coming days. Saint-Germain-des-Pres. Conveniently located on the left bank, bustling, lively and chic. Paris requires a week all to her self for exploration…plus a fine constitution for managing the 65 stairs up to our apartment!!
Reliving initial wonderment through Dickie's eyes for this is his first time in Paris? Moving beyond the obvious and into the culture and heartbeat of the city? Perhaps a little of both…