Having spent the day marveling at Rodin's 'The Thinker', being inspired by the impressionists at the Musee de Orsay, giggling at the strange red bubble exhibit in the Petite Palais, chatting with Pixi's Right Management French counterparts and nibbling crepes citron sucre from a street vendor on the steps of the Trocadero. Yes, time to acknowledge another visit simply must be planned.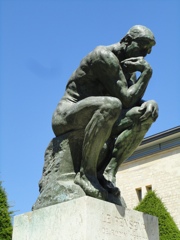 Sadly, Dicky says Paris doesn't compare to Rome and London and of course he's right in a sense…each city proudly displays it's own unique charms, specific and historical originations and cultural variations…and therefore can't possibly be compared to another. Fifi suspects Dicky has fallen under the city's spell however, as he gifted her with one of the much coveted Hermes bangles at the top of the Eiffel Tower…collective sigh…
We've left just enough leather on the soles of our shoes to take an evening cruise down the Seine to enjoy the city's illumination as a rich crimson gold sunset falls. And beautiful it is…but it's the flirtation of the Eiffel tower's hourly twinkling that brings a tear to our eyes on this our last evening in this charming city.
A fitting end to a wonderful stay. Bonne nuit….