Before you think to yourself – 'dunnit before, too easy'  as I verbally did or – 'that's what a deli's for' which I secretly did, try this recipe. Fellow ponces you'll love the tactile pleasure of plucking leaves one by one, the sensory immersion in the heady fragrances of fresh basil and Pecorino and the simple pleasure of saying 'Oh yes darling, I made it from scratch, a recipe I secured from a dear little Cucina in Liguria, Genovese you understand', accompanied by a well deserved discreetly smug smile. The recipe beats store bought hands down and it doesn't separate.
Need:
• 100 g fresh basil
• 50 g Parmesan (or Pecorino)
• 30 g pine nuts (or walnuts)
• 1/2 cup good quality olive oil
• 1 clove of garlic
• Healthy dose of salt

Do:
• Pluck the basil leaves one by one onto a board taking care to remove the stalks from the bigger leaves.
• Rinse and spin dry in a lettuce spinner
• Roughly chop the leaves
• Peel and roughly chop the garlic clove
• Grate the cheese using a fine plain
Then:
• Throw half the basil, half the parmesan, a little oil, the garlic, pine nuts and the salt into a food processor.
• Turn on and slowly drizzle half the oil into the mix via the Shute as the mix macerates
• Stop, scrape down the sides, throw the remaining basil leaves and Parmesan in and continue blending while drizzling the remaining oil until a smooth paste forms
• Stop taste for salt, add if necessary and finish blending until creamy
Assemble:
• Stir through freshly cooked al dente pasta, garnish with a basil sprig and serve immediately
N.B: I love 'Trofiette', a short tight little twist of pasta for this dish as it 'grabs' the sauce and lends a certain authenticity to the dish however any curvy pasta will do.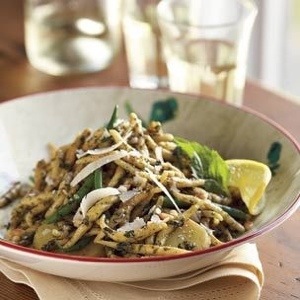 Or
• Smear on crisp bruschetta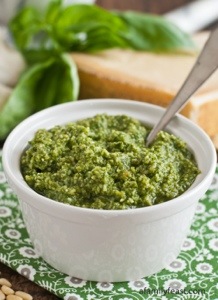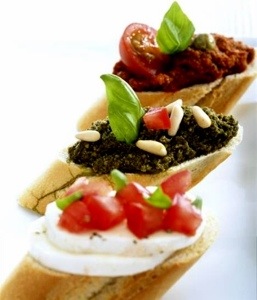 Or
• Pop in a cute jar, label it 'Pesto made by me' or whatever, top the lid with a small square of fabric held in place with an elastic band (just because it lends a certain panache to your creation) and give as treats to Auntie Bertha, that nice Neighbor or simply squirrel away for yourself. Lasts well in the fridge, you be the judge of expiration date.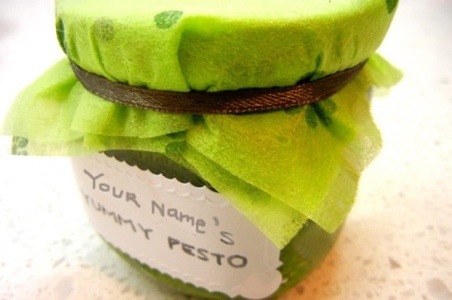 Recipe kindly provided by:
Restaurant Il Ciliegio, Monterosso
Cinque Terre