Nine in the eve…admiring Lake Lucerne as the last of the yachts make their way home and the many swans retire for the eve; marveling at the snow tipped Swiss Alps in the distance fading to dusky pink for it is almost sunset, sipping a red and thinking…what a fabulous contrast! Switzerland v Italy – Italy v Switzerland.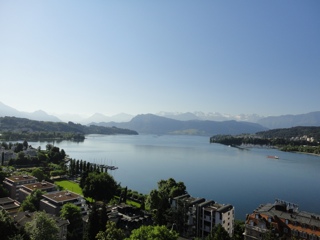 Friendly people who chuckle at our attempts to grasp this new language and quickly adjust to fluent English to make us comfortable, the city clean, so clean, the traffic calm…and then there's the Reuss river…crystal clear, icy blue in hue thanks to the water flowing directly from alps to lake.
A stroll into the old quarter reveals stately buildings adorned with intricate artwork not dissimilar to
those in Prague and Vienna yet displaying a uniqueness all their own..quite special actually.
Swiss cow bells, Swiss army knives, Swiss cuckoo clocks and Swiss chocolate abound…as do Swiss watches. Dicky's in raptures and bags himself a mighty fine time piece, Fifi trawls for cooler clothing while Pixi spends the afternoon wandering and snapping this new architectural style in the old quarter, feeding the swans and yearning to dip tired toes in the cool clear waters.
Hankering for a Swiss fondue tonight but settle for room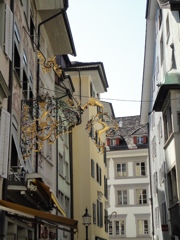 service sandwich and French X Factor on the Bang and Olufsen telly, snuggled under the perfectly fluffy Swiss doonah, nestled between perfectly feathered Swiss pillows. Fifi's legs need recuperating from all that walking and as this country appears to be the most expensive in Europe, may have had to do Swiss dishes for a week to pay for that chunk of melted Swiss cheese. Instead think of waistlines. Oh wait…waistlines??