A leisurely continental breakfast and at the recommendation of our host, off to sample fine Cognac at the Chateau de Beaulon.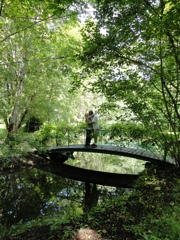 While my companions were 'gettin it on' I wandered the les Fontaines Bleues – beautiful lakes of soft green dappled with the deepest azure blue, almost iridescent and unique to this region, and did my best to capture their depth of brilliance.The springs emerge within a gentle stream, surrounded by light forestry, neighbored by lush grape vines.
While strolling the garden, in desperation am forced to take a tinkle behind a bush…stinging nettle...that's all I'm gonna say boys and girls; Jenny and Ross in stitches, photographic evidence and I may need to pay a ransom to avoid my ass being broadcast on YouTube.
After sampling varying wines and the Cognac, we sail merrily out and into a lovely drive through rolling green fields to Talmont, a stroll around this pretty little village perched on the edge of a cliff, pizza and crepes citron sucre then down to Saintes where we seek out very much needed Anglaise/French interpretation dictionaries to avoid any further near misses with incorrect turns and goat meat.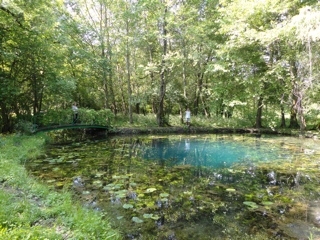 The Chateau is closed for dining tonight and in lieu of a €20 room service bowl of soup (can't risk another serve of the pink fishy liquid), we head into the village for a cheap n cheerful nosh before retiring to our respective boudoirs to hear another 8 hrs worth of Bin Laden triumph on CNN, the only English speaking TV channel, our brains exhausted from interpreting. Tomorrow…Salat.