Look kids! Another tunnel, viaduct, tunnel! Nice to the CinqueTerra, the five lands and the sleepy fishing village of Monterosso after an endless drive through the middle of mountains and over gorges. The journey punctuated with a rewarding stop by in Portofino where Ducky suggests an impromptu boat ride. While cruising around SanFortozio we nibble freshly selected market panne, prosecuto, fromage, crimson cherries strawberries enhanced with white Balsamic. The fromage, a gently oozing Brie and aromatic chunk of Roquefort, sadly missing for Pixi's clearly left them atop the counter  back in Nice. We mourn the loss of this perfect accompaniment to a lazy picnic with a bottle of Louis Roederer Champers.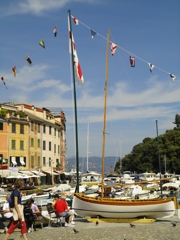 Ducky deserves this treat for he's just survived his initiation into driving on the wrong side of the road, dodging oncoming maniacs at the wheel of flaming red Ferraris and random suicidal cyclists on switchback bends and narrow alleyways. And what an adorable place to do so! Absolutely recommended!
Practice replacing 'merci' and 'au revoir' with 'grazia' and 'arrivederci' and concur…pop an 'O' on the end of all words and we'll have this new language conquered.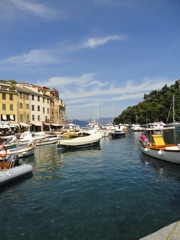 Negotiate our way to CinqueTerra, check in and as we explore our rooms, find Pixi's is equivalent to a monastery… expecting a holographic cross to hover above the bed, and still pondering how to access the loo which is kinda under the sink…and as for the prospect of bending down to pick up the soap in the shower? The doubles have rooms a tad larger and as I visit, find Dickie pouring G&Ts atop his bedside table, which is actually a small fridge. Roaring with laughter, we down said aperitifs and toast our new country. Italy.
A stroll down to dine on a cliff edge, watch the sun set and a bright moon rise over the infinity and beyond' Mediterranean…ahhh! Bellissimo!