Settled in, board the big red bus and take in an overview of Paris's 20 Arrondissements and icons. Bearings for Dicky, a refresher for Fifi and Pixi, and foundations for the week's plans.
Feeling right at home in our light and airy little Pension on the Saint Germaine Boulevard surrounded by a myriad of little cafes, restaurants, book stores and art galleries typical of the Latin Qua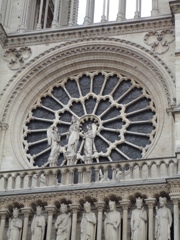 rter, action central, meeting place to bring in the weekend…close to the Seine, a hop from Notre Dame, stones throw from the Louvre and a skip to the Musee de Orsay.
Dicky still hasn't forgiven for having to lug luggage up 67 narrow spiral stairs, his back moaning and not a golf club …the perfect Dicky 'man cave'…in sight. Exacerbated after being dragged to our 'girl cave' wonderland…the Galleries La Fayette…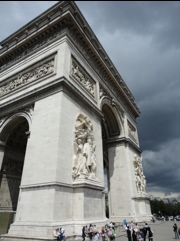 Exquisite lingerie and Dyptique candles…check; long, long walk home through the streets of Chanel, Dior, Cartier, Hermes…check; a linger on the Pont Neuf to absorb the Parisian culture…check, Centre Georges Pompidou  to view the best modern art exhibition…check, Sephora, the absolute in cosmetics and fragrance…check; 'goldfish' photographic moments at the foot of the Eiffel Tower and all rounded off with a juicy steak washed down with a petite little vin Rouge and bed!
So much to see and do…so little time…and time is running out!