I've been focusing way to much on work related stuff of late my lovelies- what not to say in interviews, how to build your social media brand and so on - sharing my work related bliss (career coaching) for helping you find your work related bliss (rewarding career). But hey! You know this here blog aims to inspire on so much more than just the gig that keeps the wolf from the door.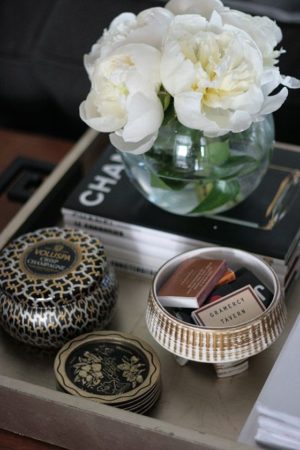 Let's talk about what's behind that door. The home that nurtures and sustains, comforts and protects. Where we shed the shoes, pitch the work kit, don the sexy jammies (nothing less), pour a wine, light a candle (ok ok, after the kidlets are in bed) and kick back. On the sofa. Behind the coffee table. The one usually supporting our feet, said wine and that pile of life's detritus. Well that coffee table is about to be spruced.
As many of you know, I'm big on 'styling' stuff. Book shelves, desks, bedside tables, coffee tables, heck any sort of surface, often sharing the passion on the blog. Always on the look out for coffee table books, scented candles, sweet little nicknacks to spruce my home, feather my nest; coupled with the occasional crack of dawn raid on the Flower Markets when I'm feeling flush - all fuelling my frustrated interior stylist mojo.
So excited do I get, I once spent 5 hours with a girlfriend helping her perfect her coffee table vignette. Frivolous waste of time? Perhaps for some. For us, a few strategically placed, aesthetically pleasing goodies simply adding an extra layer of luxe to her home - as per the dictate of Ingrid Abramovitch (New York interiors writer) 'space is finite, so everything has to be beautiful or functional'.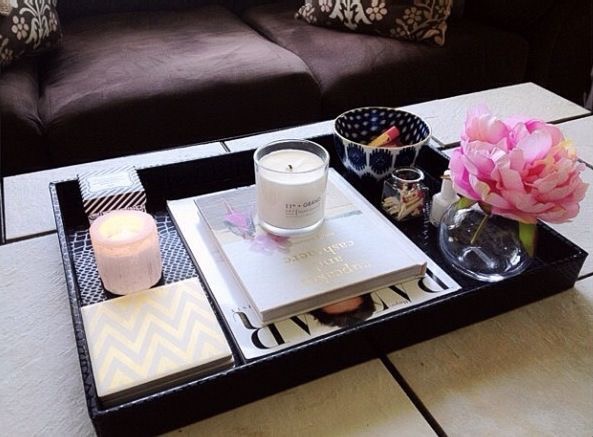 Kate Spade (All in Good Taste) says no one 'decorates' their home, they embark on an expedition. 'The choices you make are a journey that tells the story of you and should always be the best expression of you'. And that's what makes creating vignettes for the coffee table, easier than it sounds. I've a few suggestions to help you create or refresh yours: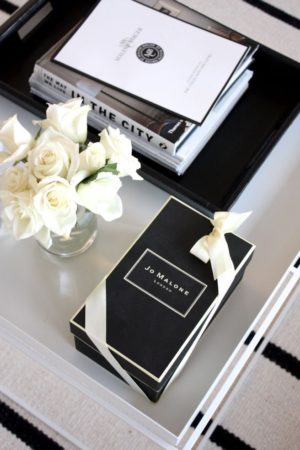 Mementos: Favourite items from past travels, antique finds, shells, a particularly pretty gift box that can double for storing the TV remotes.
Books: Select those with an element of uniformity and complementary coloured spines. Leave one open at a favourite shot. I've see the Tom Ford tome on many a coffee table (see image below), often open to a provocative page, a wonderful way of expressing your individualism.
Fruit: A big bowl of long lasting fruit in a single colour. Green apples for instance; making for a fabulous apple crumble a month or so down the track and cheaper than flowers. Speaking of...
Flowers: I'd love to have a budget that extends to fresh flowers weekly, however today's silk flowers are exceptionally realistic, making for perfect substitutes. Particularly for Peonies and Roses that cost a fortune and last just three days. I purchase fresh only when expecting dinner or house guests.
Candles: From the luxe such as Diptique, Jonathan Adler, Jo Malone; mid range including Glass House, Peppermint Grove, Voluspa; to economical from Kikki K, Target - there's a myriad of brands from which to choose and just one can be sufficient. (Throw the gift hint out - candles please!) And light it for goodness sake! One of life's glorious luxuries. Stick to a single signature scent and if lighting more than one at a time, do so in short bursts as some of the more luxurious can be quite heady. Be mindful of people's allergies as well.
Glass Ware: Used candle receptacles, vases, pretty cut glass scotch glasses, an eclectic mix or one or two uniform styles, staggered, the choices are endless.
Bowls: Ceramic, glass, brass, filled with mints, M&M's, sea shells, balls...or nothing at all.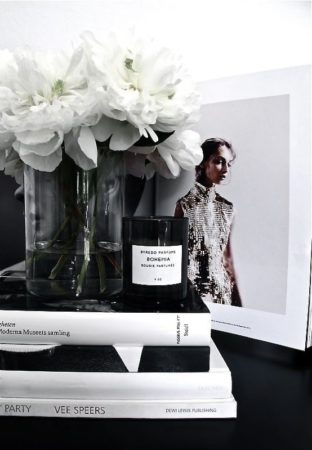 Trays: One that can frame your vignette, effectively restricting you from getting too carried away. Serving double purpose and easy removal when cleaning that coffee table.
Looking for more inspiration? Pinterest of course, Instagram too. Major department and homeware store displays, interior design mags, blogs, websites, a veritable smorgasbord waiting for you.
As well, that fabulous little book by Kate Spade.
Have fun!!
Image 1 - smallshopsstudio.com; Image 2 - http://www.purewow.com; Image 3 - homevialaura.com; Image 4 -clubprivilege.tumblr.com from Fabulousthings blog; Image 5 -naimabarcelona.tumblr.com