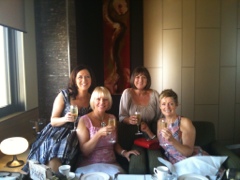 Corralling all four girlies into one room is equivalent to organizing the world trade summit, thus it was with great excitement that the frocked up, bejeweled and stilettoed Slappers* met at the Sofitel to indulge in each other's company over a delightful little High Tea.
Beautifully themed and playing to the Black & White French Fashion Stills Exhibit currently being hosted by the Sofitel, the High Tea, served in the comfort of top floor luxe with spectacular city views, doesn't disappoint. Before we've even had a chance to clink the Champers glasses in celebration of all things girly, four miniature Parisian trunks arrive, each housing individual serves of delicate ribbon sandwiches and petite scones, followed closely with slender elongated plates resplendent with delectable sweet treats. Falling in love with the delicate themes displayed across each plate…ginger snaps with macaroon spools posing as film reels complete with rice paper strips painted with film stills, miniature strawberry tartlets, the cutest tiny double profiteroles…our taste buds positively tingle in anticipation!
Toasts over and I'm busy congratulating myself on choosing such a delightful environment in which to catch up with beloved friends when suddenly we are thrown into 'uh-oh' space!
While observing and speculating the scenario of a cluster of women being 'styled' in tiny paper top hats and gaudy feather boas and happily tittering as they pose for themed photos, we are approached by our gracious hosts and asked if we might also like to take advantage of this 'value add'. Hmmm! A pause for quick reflection, followed with speedy collective conclusion…thankyou but no. For the tittering women a fun interlude to be sure, yet the concept a total contradiction to the sophistication of the fashion stills upon which the high tea theme was founded, and so totally at odds with the classicism of the event…hence our reticence.
Instead we shrug, pour another tea and settle in to ruminate on love and life and an enduring friendship that has seen us all through the best and worst of life's offerings over the years. And that's when I'm suddenly blindsided by an epiphany…
If just one of us had contemplated putting one of those tacky hats on and lined up to pose, we would all have entered into the spirit without question giggling all the way , because making each other happy is what friendship's all about…no questions, no judgements…simply doing what true friends do to make each other happy. Smiling at the thought I emerse myself in the conversational warmth of these women…after all, who knows when we'll have another opportunity!
If you feel the need to release your inner Parisian self and line up for themed photos, or simply yearn for an elegant indulgence, we thoroughly recommend the Sofitel's High Tea!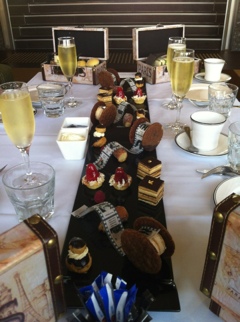 * Slappers – an endearing term coined by one of our partners…we don't hold it against him!