Meet Bruna for a quick cab ride to Avenue Montaigne…Chanel to choose our 'it' bags, Dior to select outfits for this evening, Hermes to accessorize and luncheon at 'Avenue' where we sip Perrier and nibble on our lettuce whilst jostling with celebrities dodging paparazzi… all in a days work.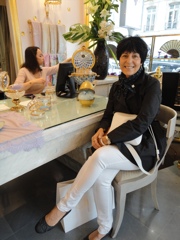 Well not quite… cab ride back to the left bank to resume our shop trawl in St Germaine followed by a glass of bubbles at home whilst we gloat over our beautiful imaginary outfits and accessories…then debate the arduous task of where to dine this eve. The volume of restaurants in our arrondissement, the Latin Quarter, is overwhelming. Bruna to the rescue.- Monsieur Lapin!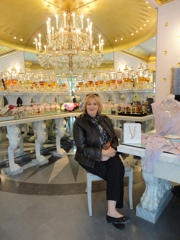 Fifi's been yearning for Lapin (rabbit) and so it shall be…on B and R's recommendation the quaint restaurant Monsieur Lapin doesn't disappoint…Crispy Rabbit Pie, a perfectly risen Soufflé a robust Sauvignon Blanc from the south of France all suitably satisfy Fifi's needs. A fun girly day, a lovely dinner, celebrating days also spent learning about key pieces in the Louvre, exploring the Jardins Luxembourg, Parthenon and Basilica du Sacra Coeur...our work here is almost done!