I'm a tad disturbed. Male tourists are strolling through the Villages wearing just their DTs.* The Scot at the adjoining table just muttered 'Walk doon beach leck dat e' oome 'n ye'd be knifed ye wooud!' to the back of his girlfriend's head. She didn't hear, too busy eying up a package in a pink pair with an expression that's vacillating between repulsion, curiosity and lust. And the stud over there proudly sporting the white ones? It's not cold today my friend.
I'm also disturbed to see every female on the beach regardless of nationality, shape, size, age or original gender sporting a bikini. The ones that don't entirely cover the butt cheeks. Clearly 'de rigueur' on the Italian Riviera.
And I'm particularly disturbed that, aside from the harsh disregard for 'slip, slop, slap,'** I'll need to hand over €20 for a ragged deck chair, a folded umbrella and the privilege of sitting on the grey pebbly beach amongst all that DT/bikini clad slow roasting flesh.
It's all just too disturbing so I've poured another wine. Today I will think about the prospect of Australia clearing the national deficit in just one week by adopting a similar 'pay for privilege' beach plan. Tomorrow I will start a diet consisting of a single strand of pasta and an expresso. Needs must if I'm to 'fit in'.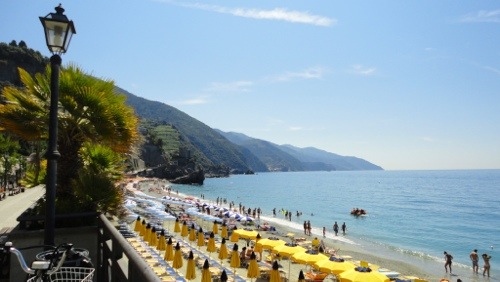 (Monterosso main beach)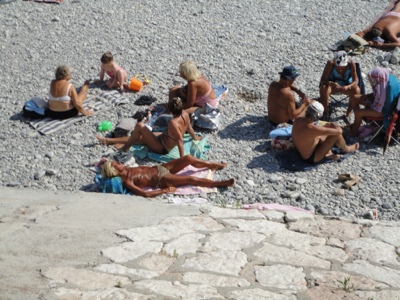 (Taken in Nice, same scene in Monterosso – uncomfortable pebbles)
* Speedo swimming trunks, commonly known as 'Dick Togs' 'budgie smugglers', 'junk trunks' and 'Tonys'. (in honor of Tony Abbot, leader of the AU opposition party, who has a propensity for red ones)
**Slip on a shirt, Slop on sunscreen and Slap on a hat – an Australian anti skin cancer campaign.