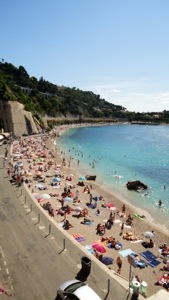 The sun is gloriously warm, the ocean a sparkling azure jewel, Yachts, pleasure cruisers, and colourful air beds upon which bronzed bathers are lazing bob gently on the swell, the Sancerre's chilled to perfection and…Oh sorry, did I hear you say you're too busy buying your ticket to read on? Please do for the Côte d'Azur, well Villefranche-sur-mer at least, is really rather special.
It is also fraught with danger…
Today I learnt that it is pertinent to hide when cruise ships arrive. All that nylon stretched across impossibly large derrières is a tad too much to bear. Why?
Said derrières clearly needed a beach fix. The beach as usual was wall to wall and claiming a smidgeon of territory required the usual cunning, deftness and abandonment of 'personal space' issues. Hence my poorly veiled glee as I staked my claim on a square metre recently vacated by a family. And that's when the shadows loomed. And not of the cloud variety. I'm talking the beach fix derrières.
First they threw down massive beach baskets from which enormous beach sheets, blow up devices, sunscreen, hats, magazines, water and baguettes were exhumed. I swear I saw a small manservant being pushed back in.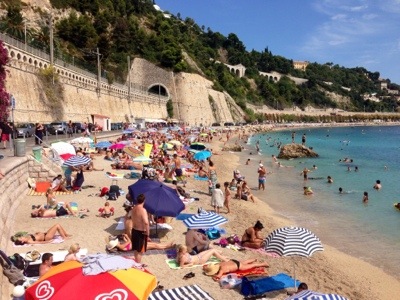 With the detritus of beach pleasure released, they then crafted little divots from the pebbly surface in which to park said bottoms. The hollows clearly weren't suitably sized for once towels were spread; both pairs began to grind side to side until satisfied. It was not a pretty sight, or sound. Ocean view thoroughly obscured, I recompensed with the shade they afforded and a delicious little piece of eavesdropping. And that's when I discovered they were from the cruise ship…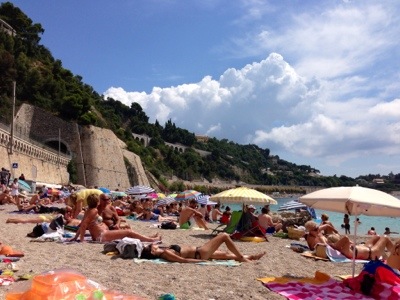 'Which side of the ship do we need to be on to see the Panama Canal?' asked one of the other in a strong Texan voice. 'Other' didn't have an answer; she was busy planning her outfit for this evening's disco theme. Emitting a small shudder from the question intimating one G&T too many and a vision best erased, I gathered my sarong and departed. I had to. Just knew I would not be able to contain myself should 'other' ask 'What happens to the ice sculptures when they melt?'
I know you're dying for photo proof but I very much fear I'd be hunted down and sat upon. These are from a non cruise ship day.