Came across a batch of little porcelain spoons in the kitchen recently, you know the ones, perfect for Asian soups and tiny h'ordeuvres and nothing much else?
With girlfriends coming for lunch, got to work choosing the perfect morsel to pop in them. Too hot for a Laksa, a guest not keen on molluscs or sashimi, behold the humble prawn! Who doesn't love a good prawn on a hot summer afternoon huh?
Fresh, light, tasty, my little 'deconstructed' Prawn and Salsa Cocktails looked rather cute and tasted even better, all the while taking care of my rekindled spoon fetish.
Enjoy!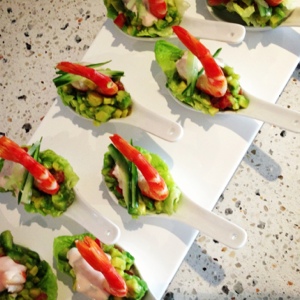 A few spare spoons of your own? Here's what to do…
Need:
2 x Avocados finely diced
1 x Tomato, seeds removed, finely diced
1 x Scallion (spring onion) finely diced
12 x Cooked Prawns, shelled, deveined, tails intact
Slither of fresh ginger finely diced
2 x Limes juiced
1 x teaspoon capers finely diced
1/4 cup Whole egg mayonnaise
Dash of Tomatoe sauce
Baby cos leaves (the tiny heart ones)
Julienned telegraph cucumber
1 x extra lime
Cracked pepper
Pinch rock salt
Do:
• Add diced ginger to lime juice, pop prawns in and leave aside to marinate while preparing remaining ingredients
• Gently toss diced avocado, tomatoe and scallion together with a good squeeze of lime juice (to prevent avocado from discoloring), to the create salsa. Season with salt and cracked pepper
• Pop diced capers into mayonnaise, add a squeeze of lime and dash of tomatoe sauce to taste to make the perfect seafood sauce, season with cracked pepper
Assemble:
Place baby cos leaf on spoon
Follow with a spoon of salsa
Nestle the prawn on its back on the salsa, tail upright
Add a small dollop of seafood sauce
Follow with a few julienne cucumber strips
Finish with a light pepper grind
Place assembled spoons a on a platter (I like them in nice tidy rows on a rectangular platter)
Serve with a chilled white or Brut sparkling wine