Drop that recipe book and listen up fellow foodies! Here's an elegant, visually appealing dish guaranteed to scintillate your guest's tastebuds – brought to you by a classy lady who knows how to knock 'em dead with her culinary expertise – Jane. No not this Jane, the other Jane. You know – the one who, in an effort to round up her wayward Dinner en Blanc wannabe guests, enticed us all to participate in a gentle afternoon soiree fueled with laughter, a menu to die for, a wine or six and all under the guise of a practice run for the actual event. Seven sighs of satisfaction, a joyous chorus of 'This one's going straight to the Blog!'  and here it is…
Burrata with Blood Orange, Coriander Seeds and Lavender Oil 
Need:
2tbsp olive oil
11/2 tsp clear runny honey
3/4 tsp dried lavender
1/2 small garlic clove, crushed
1 tbsp coriander seeds, toasted
2 blood oranges (320g) or 2 medium oranges
4 burrata* balls (440g)
5g basil or micro-basil leaves
coarse sea salt
Do:
Place oil in small saucepan with honey, lavender, garlic and 3/4 tspn of salt. Bring to a simmer on a medium-low heat and remove at once. Stir well and set aside until completely cool, then add coriander seeds.
Use a small, sharp serrated knife to trim the tops and tails off the oranges. Cut down the sides of the oranges, following their natural curve, to remove skin and white pith. Slice into 8 rounds, 1cm thick, and remove the pips.
Serve:
Divide the orange slices between 4 plates, slightly overlapping and place a burrata ball alongside.
Spoon coriander seeds and lavender oil over the cheese and orange, top with torn basil leaves or micro basil left whole and serve.
For added flair, spoon the dressing at the table from a snazzy baby copper pan.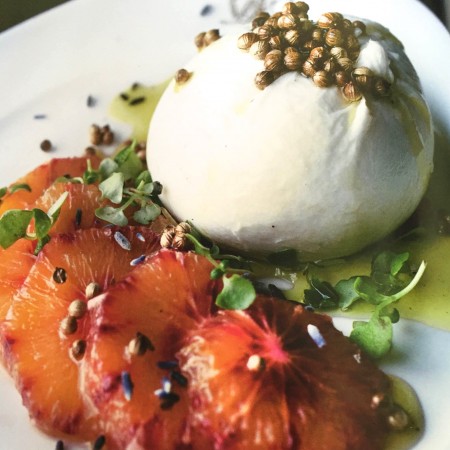 Thanks for the fabulous day Jane!
* Burrata (butter in Italian) is a fresh cheese made from mozzarella and cream. The outer shell is pure mozzarella while the softer inside is a mixture of mozzarella and cream, which starts to ooze when the ball is pulled apart. (recipe from the famous NOPI restaurants).