---
Good news folks! My urge to play in the kitchen has returned, and, given the blog needs a top up of tasty coupled with a spot of scintillation, here's the perfect combo – Spaghetti alla Puttanesca. It's my 'when' dish. When there's a chill in the air, when time is poor, when a robust red deserves a tasty counterpart, when loved ones suddenly lob and need feeding. Been a number of 'when's lately. Wins too. A friend recently exclaiming 'this recipe's going straight to the blog'! Right said I, for who can resist a quick and tasty, easy on the waistline dish that can be knocked up in 10 minutes from mere pantry staples when one's too lazy to trawl the supermarket?
'Slut's Spaghetti', 'Working Girl's Pasta', 'Prostitute's Pasta' – so what's in a name?
Puttanesca has a sauce base of capers, olives and tomatoes and is usually served with spaghetti in a dish known as 'whore-style pasta'. Nigella calls her version 'Slut's Spaghetti', Jamie's recipe titled 'Working Girl's Pasta'. 'The name 'Prostitute's Pasta' originating from folk-law claiming the savvy Puttanas (prostitute in Italian) made the quick and easy pasta sauce to minimise down time between clients. Others say the robust aromas of the dish were designed to entice clients into the house of ill repute. A less audacious version indicating the sauce was created by a chef who had a volume of guests arrive at his restaurant late one night just as he was about to close and, not having enough of any one ingredient to make a meal for them all, pulled everything from the kitchen together to make this legendary Italian pasta sauce.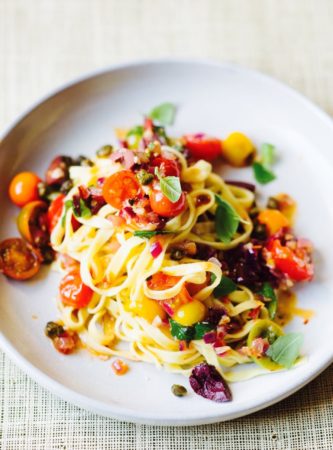 My favourite theory? Tongue in cheek, LV Anderson (Prostitutes have nothing to do with it) says Italians use puttana (and related words) almost the way we use shit, as an all-purpose profanity, so pasta alla puttanesca might just have originated with someone saying, "I just threw a bunch of shit from the cupboard into a pan."
The origins of its name might be debatable but one thing's for certain – it really does make an easy, quick, cheap and delicious pasta sauce! And seriously, who can resist a dish with such a shady title? Here's my version. Enjoy!
Need:
400 g dried spaghetti (or linguini)
olive oil
4 garlic cloves, peeled and finely sliced (avoid using a garlic crusher for finely crushed garlic will burn before absorbing the aromatics)
3 anchovy fillets, roughly chopped
1 small Chorizo sausage, roughly chopped (optional)
tablespoon tomato puree
a small handful of salted capers, rinsed and drained; or brine version, drained
1-2 fresh red chillies, sliced (seeds in if you like it hot, hot, hot, out if you like it mild)
a small handful of black and/or green Sicilian olives, de-stoned
2 handfuls very ripe cherry tomatoes, halved
a small bunch of fresh basil, leaves picked
Parmesan cheese, to serve
 Do:
Bring a large pan of salted water to the boil, then add the spaghetti and cook according to packet instructions.
Meanwhile, place a large frying pan over a medium–high heat. Add a good lug of olive oil, followed by the garlic, anchovy, chorizo, capers, chilli and tomato puree. Tear in the olives and stir for 2 minutes, or until the garlic starts to turn golden and the anchovies start melting.
Add the cherry tomatoes, a good splash of pasta water and cover with a lid. Cook for 3 to 4 minutes, or until the cherry tomatoes start to cook down slightly.
Drain the pasta, reserving a cupful of the cooking water.
Add the basil to the sauce along with the pasta and a splash of the reserved cooking water, to loosen.
Taste and season if needed.
Transfer to a serving platter and top with a good shaving of fresh Parmesan and Basil leaves.
Reap accolades while smiling to self 'prostitutes be damned'