OK! Gonna brag. No. Not the Instagram 'here are my red lacquered toe nails on a beach in the Bahamas' kind of brag. No. This is the 'here are my Coral lacquered toe nails on a sunny terrace overlooking the magnificent Mediterranean'.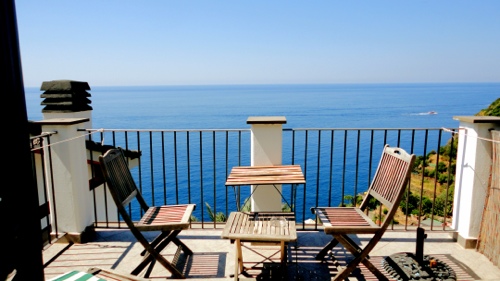 My new home for 7 days is a small studio with a big view, sitting atop a steep winding road just above the castle behind which sloping steps sweep back down to join the start of Via Colombo, the main thoroughfare that leads down to the harbor.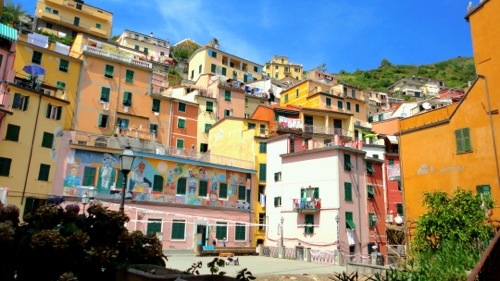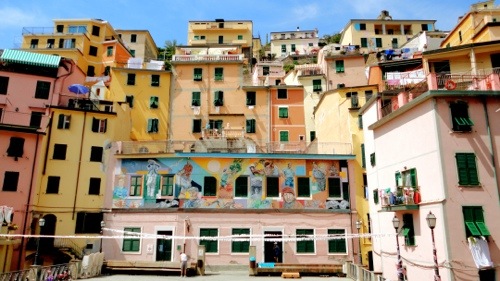 Riomaggiore doesn't have quite the same 'distressed' antiquity as Vernazza and Monterosso; more fresh paintwork, wider walkways, yet the same tall houses resting against each other like drunken sailors in shades of terra cotta, soft pink and dusty green complemented with moss green shutters, washing lines and flower pots bursting Geraniums. But where are the cats?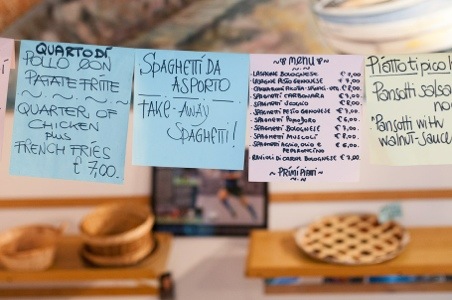 Via Colombo is steep and wide, two or three deep steps down the sides into shops serving fried seafood cones, pizza squares and colorful gelato; Italian linen shirts, sarongs and sunscreens, Limoncello, local wines and home made pasta. As well, little bistros and restaurants, some with outdoor elevated seating. Still haven't found a cat.
The road slides to a halt at the tunnel junction – to the right a very long one lined with a beautiful ocean blue mosaic leading to the train station and to the left down steps and under the railway tunnel to the harbor, ferry access and beach.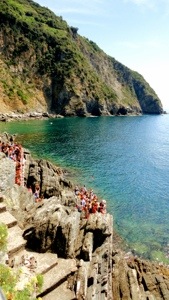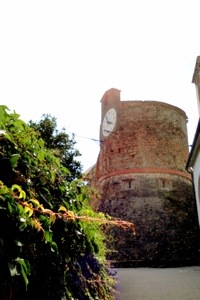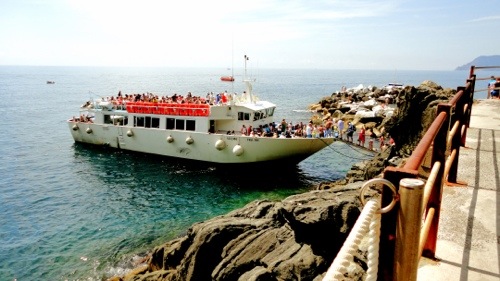 The harbor is a sheltered enclave much like Manarola, smaller than Vernazza and crowded with colourful little boats and mossy rocks upon which bathers recline. The tiny crescent beach, accessible via a path carved into the cliff face, has bigger pebbles, smaller space and is wall to wall sunbathers, some attempting to wobble across unsteady terrain into water so crystal clear it belies the depth. A good thing for kids are diving in off the cliff. Easier and much less embarrassing access than the pebble wobble but I ain't gonna try it. No cats.
Unlike Vernazza there's an absence of cats. Like Vernazza there's the presence of church bells. Right below my door. Thankfully someone sent the memo…keep it down will you? Jane's in residence.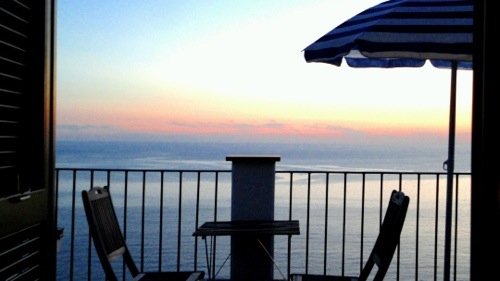 Coming soon: Another, possibly fateful, definitely horrendously steep walk from here to Manarola. Fortifying strength as we speak with a pleasant little local (wine that is) over another spectacular sunset. Oops! There I go again….