Ducky's desire to absorb the city's history requires a cruise through the busy canals in a sexily sleek timber number. Suave, sophisticated, our snappy guide Johnno provides a running dialog extolling the virtues of the most impressive buildings, the wonders of Baroque architecture punctuated with enticing anecdotes on the city's origins and initial business dealings, supported by a raft of interesting stats…
Now did you know that over 400 Gondolas jostle for supremacy, women just this year were granted approval to be Gondoliers, the buildings are founded on wood, soil and sand, there are 117 islands, 499 bridges…and… by days end we've personally, unintentionally traversed every single one of 'em!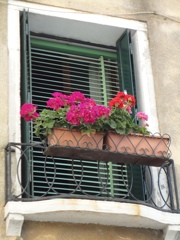 Following the cruise we guess our way through the twists and turns of canals and busy alley ways to view the Santa Maria Della Salute cathedral only to find it doesn't open for several hours…a perfectly good reason to substitute with a shop trawl while Pixie wanders the Peggy Guggenheim art gallery.
Dawdling our own way through markets filled with masks, Murano trinkets, striped gondolier shirts and more, Pix finds a stall selling cups of cool fresh berries and pineapple chunks topped with crisp Coconut chunks on ice, selects then sits awhile on the Pont de Rialto to watch the Venetian world go by…well the tourists actually…
And that's when the fun started! Following in the footsteps of a myriad of fellow tourists we eventually make it home footsore and weary clutching maps ragged through extensive and anguished overuse and reward ourselves with the customary G&T. A robust pasta nosh followed by one last wistful view of the soft twilight, sleek, shiny black Gondolas and the calming aqua water…we realise we have indeed fallen in love for she is a most spectacularly intriguing city.