The perfect crisp clear day to explore further afield around this interesting city, starting with a stroll along the lush green curbed river to the Zoo…or more precisely the Pandas…huge cuddly pandas.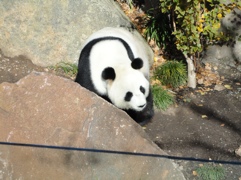 Wang Wang and Funi are cute and chubby in a lazy kinda way…equally the petite red Pandas dozing in their warm bamboo sunshine. We sigh in awe, photograph from every angle then mosey on to Pixi's beloved Meerkats intent on simultaneously sunning their tummies, digging a new 15 bedroom underground mansion and keeping watch for the next food delivery, followed by Brazilian Tapir, Peccary and Dusky Langur…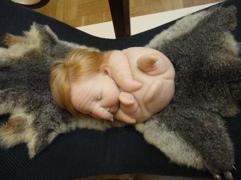 It's starting to rain…a perfect reason to divert intentions to equally intriguing creatures, this time in the form of Patricia Piccinini's 'Once upon a time…' exhibit at the Art Gallery of South Australia…
She doesn't disappoint, a fascinating feast of contemporary, hauntingly real sculptures of grotesque yet adorable hybrid animals and seductively beautiful, loved up shiny motorcycles…Pixie's in raptures, Elmo's amazed and the classic work of local and national artists doesn't disappoint either for we have happened upon the newly opened restored Elder Wing of Australian Art…sigh!
It has indeed been a day full of interesting critters…thank you Adelaide for inspiring and surprising…