Walked this far, might as well continue
Balls of my feet are aching. A walk from Villefranche-Sur-Mer around the Bd Princess Grace de Monaco, down to Lympia and on to Port Riquier Le Port of Nice will do that. One of those 'walked this far might as well continue' moments followed closely by 'how the feck do I get home' angst.
Situation needed serious contemplation, and obligatory fortification. Sidestepped into a petite bistro, ordered a vin Rouge and what I assumed would be a cheese platter equivalent to the desperately small cube of cheddar, slither of blue vein, dot of goat's cheese guaranteed to remain attached to roof of mouth 'till Tuesday, a grape and three small biscuits; the nature of which my beloved homeland is inclined to serve for a mere $20.
Nope…€8 offered up half a side of Roquefort, four dollops of non stick goat offering and two huge gherkins piled atop a salad accompanied by five slabs of Baguette. Holy taste buds batman! What really intrigue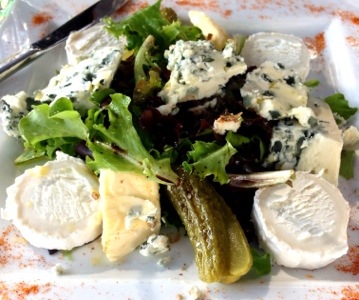 d was the two butter pats in the mix; usually only proffered after one has begged, cajoled and thrown a small but noisy tantrum for the French just don't get it. Mon dieu! Voulez vous le beurre??? Oui I bloody well want butter! But this time I didn't, gave that fight up a while ago – I'm an undercover local now remember?
In the interests of upholding my 'eat everything in site before the budget limps away sobbing soon' mantra I fulfilled the duty, all the while chortling at the memory of Rossy ordering a four cheese Pizza (when Jen, Ross and I were last in France) and receiving a 5cm deep pile of melted cheese under which a tiny crust tried in vain to uphold its duty.
Rossy's gallant effort was well rewarded with applaud from we girls and the crusty old codgers nearby. Mine with discovering Bus 81 went right past my abode, the stop just ten meters away and all for €1.20. Merci dieu!!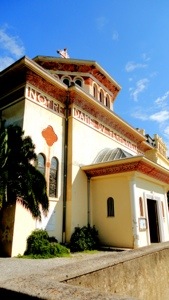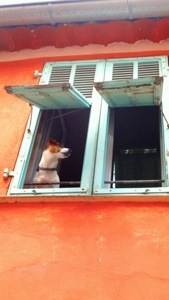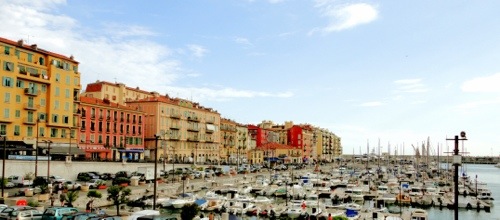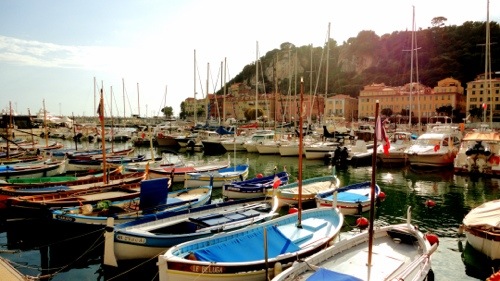 Arrived home and discovered this gorgeous woman (and her inherited side kick) atop the Citadel. What can I say?