When feeding my lovely girlies recently, concluded our sweet and sumptuous soirée with a delightfully cool, fresh and fruity summer dessert. Ever so elegant, rather pretty and oh so simple! Try it!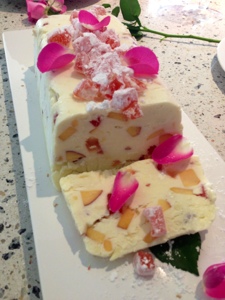 Need:
400g ricotta cheese
165g caster sugar
300ml thickened cream
100g white chocolate Toblerone chopped finely
100g Turkish delight chopped finely
150g chopped nectarines
Do:
• Line 140cm x 21cm loaf pan with a strip of foil or baking paper to cover base and extend over the two long sides
• Beat ricotta and sugar in small bowl with electric mixer until smooth. Transfer ricotta to larger bowl
• Beat cream in same small bowl with electric mixer 'til soft peaks form
• Stir chocolate, turkish delight and nectarines into ricotta mixture, fold in cream
• Spoon mixture into prepared pan, smooth top, cover, freeze overnight or until firm
Present:
• Turn parfait out onto a long platter, slice. Stand at least 10mins or until softened slightly before serving.
Decorate with extra chopped turkish delight and throw a few delicate pink rose petals around the platter for a little extra visual pizzaz…present!
Enjoy!
(Recipe can be found in Women's Weekly Best Food Collection)