Risotto, a simple tasty dish with unlimited themes, perfect for surprise guests…but what's YOUR preferred methodology for creating the dish?
Personally I find great pleasure in sipping a little vino, inhaling the delicate flavors and dreaming of Italian travels as I gently massage ladles of stock, one by one, into freshly sautéed leeks and glistening wine infused pearly Arborio rice grains until they've absorbed to a slight al dente.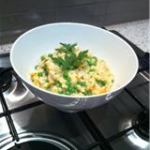 Then there's the thrill of selecting and adding complementary ingredients, handfuls of Parmesan, seasoning and fresh herbs, then delighting in the rich aroma as flavors infuse. A Nigellaesque moment. A selfish indulgence, or a shared intimacy with guests who wishing to join in.
If your preference is to mingle while the dish takes care of itself, Elmo's version…throw the lot in a pot post rice sauté, lid on, spot of random stirring 'till al dente…delivers equally satisfying outcomes.
Looking for a yummy version with a creamy finish? Try one of Elmo's recipes, simple methodology, great on flavor…
Smoked Cod & Pea Risotto:
Need:
4 fillets smoked cod
2 finely chopped onions
2 cups frozen peas
2 cups Arborio rice
1.5 litres Fish stock
250 ml thickened cream
Italian parsley to garnish
Create:
– Remove skin from cod fillets and dice into 2cm cubes
– Pop stock in a saucepan and bring to simmer
– Heat a little oil in large pan and fry onions till soft
– Add rice and stir together until grains become translucent
– Add stock one ladle at a time until absorbed and rice has a creamy consistency and is al dente (slightly firm)
– Add smoked cod, peas and cream and stir until cod is cooked through
– Season with cracked pepper to taste
– Serve in deep bowls garnished with parsley sprigs
– Enjoy!