Well, lovely readers, the literature I've read thus far indicates that 2018 will be the year we will actively step up our kindness, generosity and gratefulness. Well first up, let me tell you how grateful I am that you follow my blog and for your lovely comments both on the site and in person. Motivation to continue working on my wordsmith efforts.
For many of you, 2017 was a year you'd rather forget, and for a while I totally concurred. But why? What exactly had occurred that made me so willing to jump on that bandwagon?
Sure – dramatic changes at work made the daily gig a whole new challenge, yet we came through with a more efficient framework. Being the perpetual solo at group gigs made the heart a little tender, yet reinforced an appreciation for liberating independence. Succumbing to the most wicked flu in years, yet realising there are folk out there dealing with actual life threatening health issues.
Trawling through snaps from the year I suddenly realised that there were a lot more highlights than lows. In fact, I had rather a lot for which to be grateful. In the spirit of gratuitous oversharing, here's my top 10 on the 2017 gratitude list:
Social Media: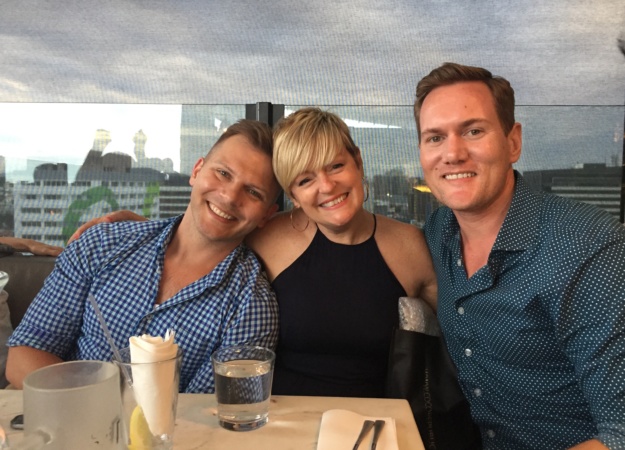 Farewelling these two chaps – decision made to work in London and within one month they were gone, but not forgotten, thanks to social media. Enjoying my UK family's winter during our sweltering summer via FaceTime. Cruising the Greek Islands on a vicarious vacation via friends' Instagram feeds, or simply saying happy birthday through Messenger and FaceBook to make someone's day. Thanks Pete & Mark and FB friends and fam.
Rebellion: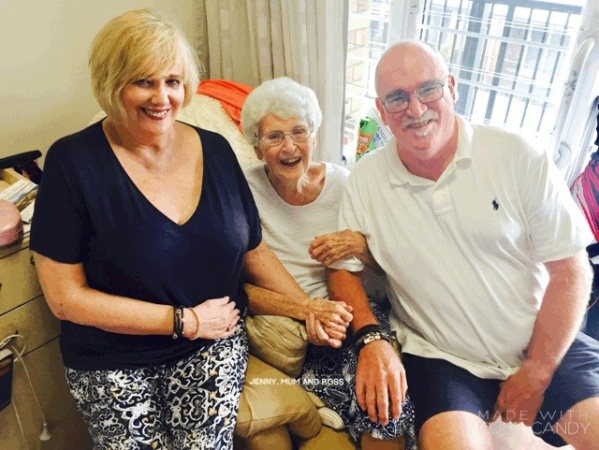 Visiting this wonderful woman, here with her son and daughter in law – her positivism despite her confinement an inspiration, her history rich with amazing experiences – and her demand for fish and chips over pureed vegetables wickedly rebellious. Thanks Jen, Ross and Mum Lyons.
The richness of family: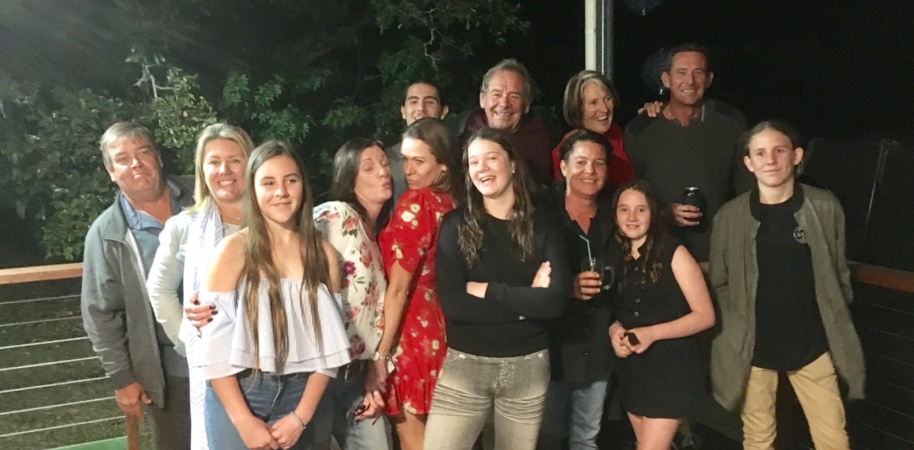 They say the family who plays together, stays together and this one's a shining example. Here a surprise birthday and 50th anniversary celebration for the matriarch and patriarch of a family.  Over the years I've observed the guests of honour exercising their entrepreneurial chops while raising these kids, then nurturing their grandkids, plus the odd hanger's on, into the fine tightly knit family they are today. Grateful for your guidance Pete, Lyn and fam, all of you! x
Food for the soul:
The GOMA for artistic brilliance – furry walls, Marvel comic heroes, giant sized women, fallen elephants. QPac for cultural fixes – The Play That Goes Wrong, Modern Citizens Oz Circus, Kinky Boots, the Pink Floyd Experience, The Kransky Sisters. The Tivoli for a Wa Wa Nee, Pseudo Echo, Human League blast from the 80's. Grabbing movies with the Cheapskate Gang, so named for their love of 1/2 price Tuesday movies at the Blue Room, food and wine delivered directly to your seat, a lovely mid week ritual – all food for the soul.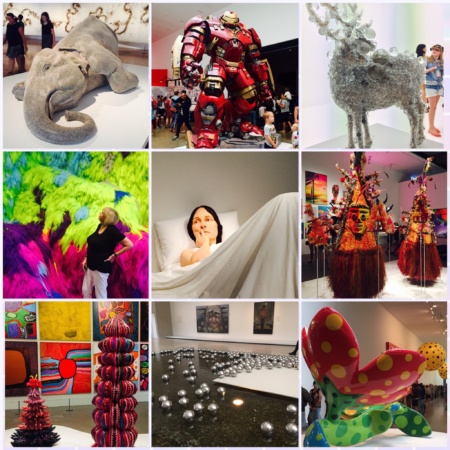 Friendships old and new:
Catching up with this lot from a childhood in the rural 70's –  the same fabulous school buddies, all of us just a tad older and wiser. Thank you Bill, Ian, Kenny, Di, Chris and Debra.
As well, for the many precious moments spent with loyal and loving friends over home cooked dinners – celebrating enduring friendships. You know who you are.
This lovely man: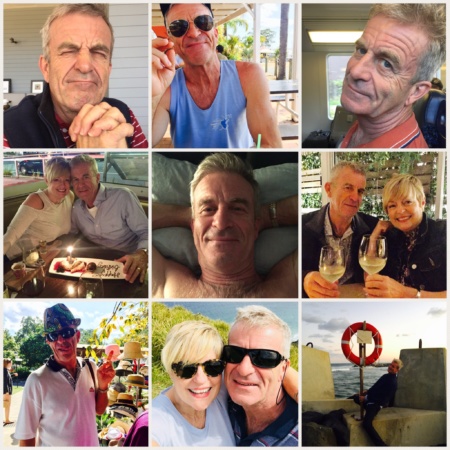 Drives in the country, exploring markets and savouring new taste sensations.  Chilling with Netflix marathons, debating the meaning of life, the value of bitcoin, John Snow's potential global dominance and fixing blocked drains – the lovely man providing the lesson that independence can, in fact, go hand in hand with love and companionship. Thank you JB.
My lifetime family: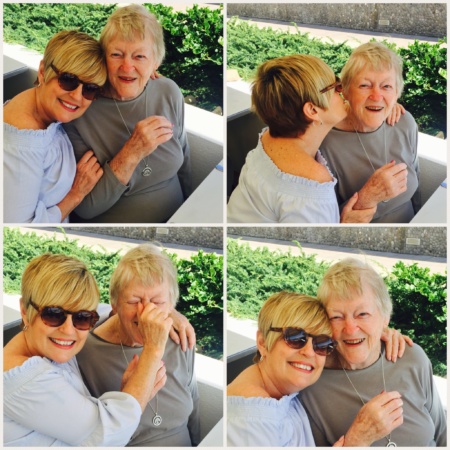 A day's worth of flights to celebrate Sis and her hubby's birthdays in rural NSW,  a chance to reconnect with the whole lovingly dysfunctional family. Flying this Mum of mine up for a holiday to celebrate our July birthdays, a small appreciation for the woman who birthed me while just a teen, then left a husband that didn't deserve her to raise me in the west – respect for her brilliant parenting and 'can do' attitude. Love you fam!
Playing dress-ups:
Getting my 70's mojo on while revelling in another birthday celebration, this one for that crazy guy in the pink Zoot Suit, complete with mirror ball, cubed cheese and cocktail onion hedgehogs and a rocking 70's play list to which I knew all the words – memory intact. Thanks David and Andrew and gang!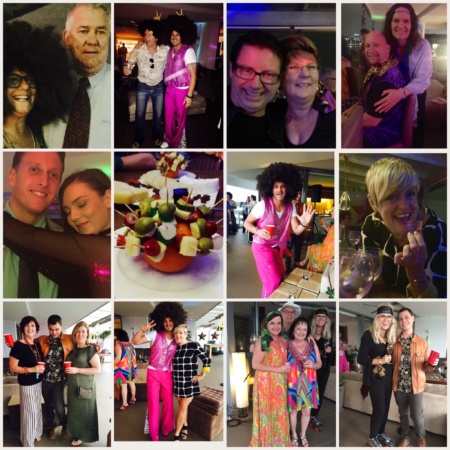 My daytime family:
Having fun with the team, most of whom have been right there beside me for years, our well oiled machine dedicated to our purpose – making a difference in people's lives. I'm eternally grateful for their expertise, guidance, friendship and support Julie, Carly, Danielle, Kellie, Deb and Maree.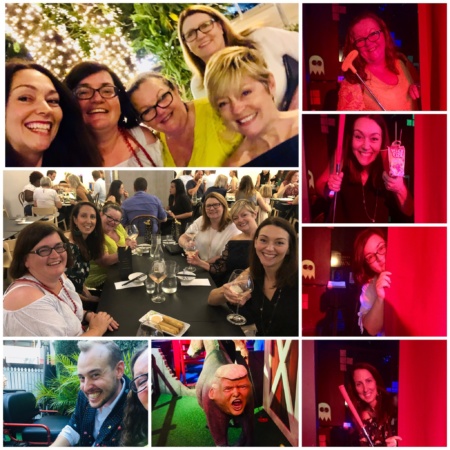 Cheap flights
Melbourne to celebrate another dear friend's birthday with these guys. Yo! Stewie & Clinton, Tab and Iain.
Hay for Christmas with family.
Sydney for New Year fireworks with the guys below – all serving as a reminder of the love for my family; of lasting friendships – and the joyful value of sharing all life has to offer.
Grateful indeed!